Halloween and trick-or-treating can be a frightening time for any parent, and I'm not referring to the obscene amounts of sugary treats, or haunted houses. In order to enjoy your night you'll want to have piece of mind knowing your children are safe.
5 tips to help keep you and your family safe this Halloween.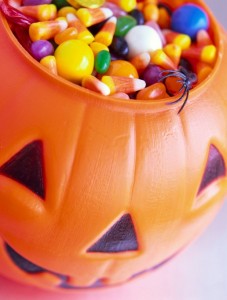 Choose reflective gear and bright colors. As it continues to get darker earlier, it becomes more important to make yourself seen by cars and other motorists. Use reflective vests, or 

bright colored

shirts

 to lighten up your look.
Use flame retardant clothing. It doesn't hurt to be extra cautious around Halloween. With it come, candle lite pumpkins, dry temperatures, and smores around the campfire.
Bring glow sticks and a flash light. Keep it bright and fun with colorful glow stick necklaces for all of the kids to wear.
Stay on the sidewalk. Keep your trick-or-treaters out of the streets, and only cross at a stop sign or cross walk.
Go in Groups. Even if your children are "old enough" ensure they go with a group of at least 3 buddies, set a trick-or-treat route, and a curfew time.
If you have a safety tip that we missed be social and share with us now!
Viewbrite Safety Products Facebook
Viewbrite Safety Products Twitter
Viewbrite Safety Products YouTube
We wish you a happy and safe Halloween! Be sure to check back often for new blog posts.