Construction job sites are full of danger. There are sharp and heavy objects, tools, machinery, and instances of working from high places. Contractors should demand their employees protect themselves on the job site to prevent injury. Do you know the real benefits of wearing a hard hat? Use these tips below to better illustrate the benefits and general safety reasons to your employees about using hard hats.
Hard Hat Benefits:
1. Hard hats protect the employees if they bump their heads against fixed objects and equipment.
2. A properly worn hard had will protect an employee's head in case of a fall.
3. Hard hats reflective properties make employees more visible at day and night.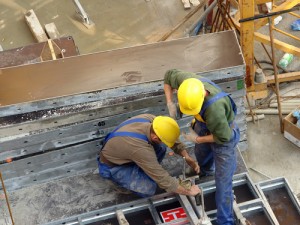 4. Hard hats also give employees more ventilation than a baseball cap.
5. Wide brim hard hats provide more sun protection for employees.
6. Job sites with work crews wearing hard hats always look the most professional.
Overall hard hats are an important element of safety that contractors should enforce on their jobsites. Lastly, always replace a hard hat if it sustains an impact, even if damage is not noticeable, to ensure your employees are properly protected.
Are there any other tips you'd add to our list? Share with us now!
Viewbrite Safety Products Facebook
Viewbrite Safety Products Twitter