Employers are required to provide a safe working environment for each employee while meeting the U.S. standards set by ANSI. In addition, is your company up to speed when it comes to safety equipment and clothing? Making changes to reduce hazard and injury can be easily accomplished by switching to a safer chemical, using proper protection, and quality gear.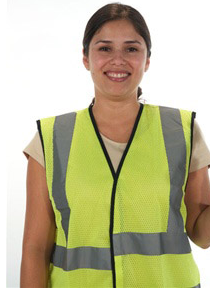 Safety vests play an important role in keeping workers safe. Vests help keep your workers more visible especially in high traffic areas. Before buying new safety vests for your employees, make sure to look for these 5 things.
Breathable material. Choose a mesh or light weight material to ensure versatility throughout the year.
Bright colors. Always stay in the neon color family when buying safety vests. Color plays an important role in the safety of traffic workers.
ANSI Standards. Our breakaway safety vest meets ANSI 107 Class 2. When in doubt, always purchase safety products that meet ANSI standards.
Reflectivity. Adding more visibility is never a bad idea when it comes to high traffic workers. Reflective vests will especially come in handy during the winter months when the days are shorter.
Easy closure is often overlooked, yet still important. Keep it fast and simple with easy and long lasting Velcro closers.
How are you keeping your workers safe, and your company up to ANSI standards? Share with us!
Viewbrite Safety Products Facebook
Viewbrite Safety Products Twitter