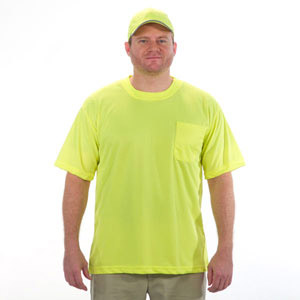 A lime t-shirts can be more than just a favorite piece of clothing, it can also be a part of the safety vests and garments which are required in certain work situations. There are 3 different categories of classification used in this job safety clothing, which provide different levels of security. Let's take a look at some of the details involved in helping to save the lives of employees.
Class 1
Class 1 is for the lowest needs of visibility such with safety vests. These situations include areas where traffic speeds are less than 25MPH, and the worker can devote their entire attention to dealing with traffic against a simple and uncluttered background. Reflective material requirements are a minimum of 155 sq inches of reflective tape, or 6.46 linear feet of 2-inch tape or 9.39 linear feet of 1 3/8-inch tape.
Employment which falls under Class 1 would be jobs that include drivers of delivery vehicles, parking attendants, and people who retrieve shopping carts. Also those who are employed as maintenance workers for sidewalk and road repairs, and those who manage equipment traffic at warehousing facilities, fall under this classification of protective and reflective safety clothing.
Class 2
Class 2 clothing is required where speed limits exceed 25MPH, in a complex settings of other activities, and the employee is responsible for doing other tasks, in addition to tending traffic. The materials used for reflection should be a minimum of 201 square inches of reflective tape, or 8.375 linear feet of 2-inch tape or 12.2 linear feet of 1 3/8-inch tape, to further help ensure worker safety.
Workers in this classification might include minor traffic accident site investigations, ground crew and baggage handlers at airport, and EMT personnel. Law enforcement officers, and forestry workers, are also under this group. Parking and toll gate employees, school crossing guards, and any railroad workers, as well as road construction, survey and utility crews, are Class 2 jobs.
Class 3
Class 3 is for the highest risk jobs where the most visibility is needed for the employee. In these situations, the worker is expected to spend more time focused on their work than in dealing with traffic, or weather conditions. Speed limits are in excess of 50MPH, and present a high risk to safety. Reflective requirements are at a minimum of 155 square inches of reflective tape, or 6.46 linear feet of 2-inch tape or 9.39 linear feet of 1 3/8-inch tape.
Types of employees in Class 3 are EMT responders, investigators of serious traffic accidents, and crews that operate a flagging system, or utility workers. Other jobs include, railway workers, and road construction crews that are on foot or operating vehicles, are required to have at least this classification of safety garments in use.
Be Safe!
A lime t-shirt can make anyone of any age more visible, but when it comes to job related safety, these garments may be required for the safety of all employees. These bright colors help to identify key personnel, and allow traffic and crowd control people to be quickly noticed, if there is an emergency which needs immediate assistance with products such as safety vest. Keep in mind that Class 3 clothing offers the greatest degree of visibility and safety.