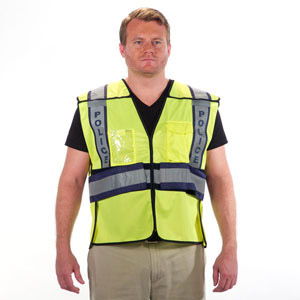 ANSI Class 2 standards were developed for the safety and awareness of such employees as emergency and police personnel, utility and construction workers, fire fighters, road workers and airport employees who work the ramps. The class 2 standards are requirements for safety wear and accessories that are easily visible and attention attracting. Included in the instructions and standards for the safety wear and accessories are shirts, rain wear, vests, outerwear, safety vests and head gear. The class 2 calls to improve the chances of visibility in day, night or low light environments and conditions.
American National Standards Institute
The ANSI, or American National Standards Institute, has been the administrating and coordinating standard bearer in the United States since its founding more than ninety years ago. The Institute was founded by engineering societies and government agencies. It remains a private, non-profit organization based on membership and supported by a constituency that is both public and private based.
Developing Standards
What the institute basically does is accredit standards developing organizations (SDO's) that work together to develop standards throughout the nation on products such as safety vests. These standards are voluntary and decided upon with the consensus of the SDO's. These SDO's must constantly adhere to a set of requirements to stay in compliance.
Clothing Standards
Garments in the class 2 field should be full jacket with full sleeves and a hood. The background material must be fluorescent and have reflective material. The fluorescent color schemes suggested are red, red/orange, and green/yellow. The aim is to have the color be different from the environment that is being worked in order to maximize visibility.
Reflective Material Standards
The reflective material itself and how it is used on the garment is regulated as well. One reflective band, rounding the entire torso, should be present and offer visibility at all angles. Reflective arm bands will be placed between the elbow and the shoulder. Another arm band should be located around the cuff of each sleeve.
Performance of the reflective material and the garments are put through a rigorous set of testing to including flexibility, how well it folds at cold temperatures and the amount of reflectivity that it keeps after numerous washings. Also observed are the performance levels in rainfall and against abrasion.
Safety Precautions
In studies conducted have shown that employees who wear the ANSI approved material are less likely to be injured or killed by motor vehicles and moving equipment on job sites. Employees who know they are adequately protected can keep a concentrated mind on the job and tasks at hand. The organizations who require their employees to comply with these standards do so with safety at the top of their list.
All Garments Must Meet Standards
All garments and materials hoping to meet these standards are tested by an independent, third party laboratory. Detailed and specific guidelines are given in several sections of ANSI doctrine. In order to be certified, a pictogram that shows the class and level of performance must be included. The 2 standards have been revised since their initial incorporation in 1999.
Accidents at the workplace are a tragic thing. They cost money, time and sadly, lives. The ANSI Class 2 standards are put in place to keep safety always in mind on items such as safety vests.