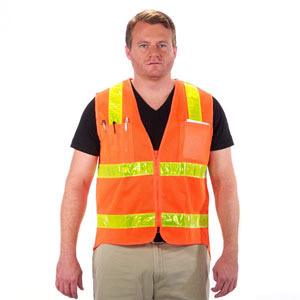 It is important in certain occupations that the workers wear proper safety apparel. ANSI, or the American National Standards Institute, ensures that high product standards in the United States will correlate with standards that are accepted internationally. This means ANSI safety vests can be used worldwide,but more importantly, they are produced and certified at a level that is approved by the international community.
ANSI Class One
There are different classes of vests, depending on the various circumstances. Class One is for those who will be in situations where they will be relatively safe from traffic. If someone works in a warehouse where forklifts and other equipment are used, this reflective apparel is safest. It is also necessary for employees who need to work on sidewalks, for parking attendants and for those who retrieve shopping carts.
ANSI Class Two
If traffic will be moving faster than 25mph, workers will need to advance to Class Two. It is also the apparel used when visibility is diminished by weather conditions. This class is worn by those who work on the tarmac at airports, policemen who must conduct traffic and they are also used by crossing guards.
ANSI Class Three
Class Three vests are used when workers must be highly visible. When the weather is at its worst and the traffic can be at speeds of more than 50mph, this apparel is very important. Anyone who is working on road construction, even if they are vehicle operators, should be in these vests. These are also used by those who are EMTs and investigators at accident sites. Classes Two and Three are also used by those whose occupation requires them to be on or near railways.
Reflective
There are standards applied to each of these classes. They all need to be clearly visible and use retro-reflective materials of a certain width. The first type requires a width of one inch or more, the second must be greater than 1.38 inches and the third type requires a width of at least two inches. These requirements create the best visibility possible in the various situations.
Colors
Colors are based on the brightest available and they include yellow, green and orange fluorescents. The reflective material can often be white or even gray,as long as there is a clear contrast. Materials can be fabric, mesh or a combination of the two. Some product designs can have a distinct contrasting outline.
Styles
Style names are by class or they can also include names such as Economy, Public Service and Incident Command Safety. It is also possible to find jackets or t-shirts that are able to meet the highest standards. There are products available with pockets and zippered fronts, too.
Workers who are in any situation where there is any chance of danger should be wearing ANSI class 2 safety vests. Police, road construction crews, firefighters,emergency medical teams and traffic controllers need to be safely visible. Because the American National Standards Institute works on a national and international level, they ensure the highest quality safety gear can be expected. If the product is certified by ANSI, it is the best that is available.