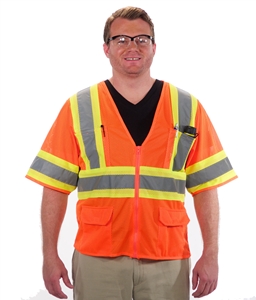 It is quite important to use protective gear any time you are walking or working on any of the roads in order to safeguard your life against hazardous occurrences. It is therefore important to use protective gear like traffic safety vests, especially at night or in the evenings. There are numerous advantages associated with the aforementioned protective gear. A few are discussed below.
Enhance Visibility
One of them is that these protective attires enhance visibility. They have been made with reflective stripes that make the wearer more visible, especially during the night. The visibility factor is indeed crucial for road users as it helps in eliminating road carnage. The reflectors send light rays to the coming motorist alerting them that a person is on the move. This way, they may slow down or avoid the person altogether.
Reduce Accidents
The other tangible advantage of using traffic safety vests is that they help in reducing road accidents significantly. It is advisable that road users use them to create an environment where deaths on the roads are reduced. They are not hard to acquire as they are very affordable. Neither are they difficult to use. They can be applied on top of other clothing.
Seen From A Distance
As the name puts it, safety vests guarantee an individual's safety while on the road. They are made in such a way that they can be seen 100 meters away and this is enough distance to enable the motorist to avoid a collision. As has been mentioned earlier, the wearer is visible and thus can be avoided by any road.
Anyone Can Use Them
They can be used by almost everybody. Although there are several of them designed for different road users, the bottom line remains that they supply protection in the name of making the wearer visible. People such as beside-the-road workers, road employees and traffic officers can use them to signal their presence.
Available Online
They are readily available and can be procured from any motorist store. For people who do not have time to go out shopping, orders can be made through the Internet online. This is advantageous since clients do not need to go up and down looking for places where they can have the purchases made. Besides it is a way of saving time and money from traveling expenses.
Regulated By ANSI
The other wonderful thing about them is that you do not need to worry about choosing the right one for your needs. There are specifications that have been made by the ANSI to assist people in choosing what best suits their needs. The idea is based on the color and the employment background of the person doing the purchase.
In conclusion, putting on traffic safety vests is not only a good idea for road employees and traffic personnel, it is also a protective measure every road user should consider having as a safety precaution meant to promote their own security. By looking at the above listed advantages, you are bound to make a sound decision on whether or not they are appropriate for your case.