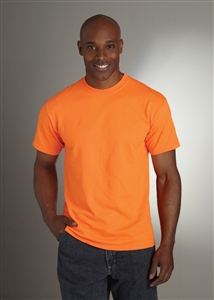 Primarily, these T shirts are used for safety in the construction or public service industries. But they can be used in other situations as well.
People socialize with friends, colleagues, family and new people for a variety of reasons. Times to get together may be for special events, annual events, and regular meetings. Fans of pro or school sports teams, for instance, may want to wear an orange t-shirt to show support for a team whose colors include orange.
Special Events
Special events may include a charity walk-a-thon, a company retreat or convention. People may team up to help sponsor community fundraisers and show community spirit. Keepsake mementos from special or meaningful events can promote the event and preserve long term memories for a community.
At any given time, not just during holidays, people can join in on social gatherings and civic events. Social networks today allow users to create or join groups and meet offline. Anyone can get involved in a community of their choice. Recreation and sports leagues, craft groups, reunion organizers, charity groups, fun run groups, music groups, hunting clubs, art galleries, pub crawlers, and others can create a unique but uniform look. Aside from their uniform use, safety vest provide many practical functions as well.
Distinguishing Colors
Besides the color of tops, the design of tops may be a distinguishing feature between one team and another. Often tops are the easiest article of clothing to bring a team together. Compared to pants, tops are inexpensive and offer many more design features. Tops are also the easiest article of clothing to coordinate across fashion styles. Pullover tops are easy to put on and easy to take off. People may wear team tops over their personal tops. They are also easy to store and are durable. They can be worn once or multiple times and used years later. They can also withstand multiple washings throughout the course of use.
Sports Teams
For sports team fans, sports league players and others attending an event may lead to socializing after the main event. In which case, people who are wearing identifying tops can easily spot competitors or people in the league who are out and about. After games, wearing identifying apparel can make for instant chat topics with someone you might not have realized shared a common connection.
Clubs
Apparel color and design distinguish a club, team, or event. Wearing lightweight uniform tops easily unites a team in an inexpensive way. Tops are versatile, fashion friendly, easy to take off or put on, easy to store, and are more durable than other apparel. People may wear a top before an event while an event is taking place and after an event. Keepsake apparel can prompt socializing within and outside of a group. For companies or people interested in promoting awareness or discussing the event, displaying a branded shirt conveys that they are open for communicating about its content.
Apply A Logo
Besides color, special apparel design can help further distinguish a group. For groups with a logo or mascot, the graphic art can be incorporated into a new shirt design. Running clubs or marathons, for instance, may take place regularly. Each event may be a hallmark of achievement. Participant achievements include training, challenges, location, and date. Rather than everyone receiving a trophy, commemorative tops can be a community oriented way to recognize the achievements of all participants. Outdoor events or recreation opportunities that provide participants with bright clothing can also help maintain visibility and safety.
Apparel tops can be designed in a variety of colors and styles. Color that stands out and conveys an upbeat spirit, such as an orange t-shirts or safety vest, can symbolize the positive nature of the wearer and the event. Upbeat colors can bring out community spirit and provide instant visibility. Color selections should include those that work well a variety of clothing styles for men and women. Certain colors work well when paired with brown, olive, black, white, blue, and gray bottoms. Those who stand out from the crowd will have keepsakes that capture their community spirit.