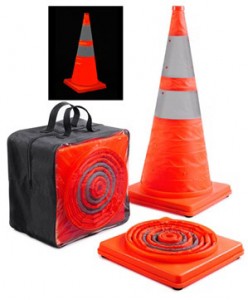 Millions of people take to roadways each day for travel, work or just around the town errands. However, when a vehicle suddenly breaks down or an accident happens, Collapsible Traffic Cones are the single most important piece of safety equipment needed to divert traffic from an area.
However, the problem is that most drivers don't carry traffic cones because traditional traffic cones take up valuable storage space or drivers do not carry the more convenient Traffic Cones because they are unaware of this new life saving technology.
Here one unlucky motorist talks about his unfortunate breakdown and how he could have used Collapsible Traffic Cones:
I was on my way to a meeting minding my own business when the car behind me rear ended me. We began to exchange insurance information and suddenly another car didn't see us and slammed into our parked cars making a bad situation even worse! I am convinced that had I or the other driver had Collapsible Traffic Cones, we could have diverted traffic and could have avoid the second accident entirely.
Don't let a bad situation turn worse! Here are 3 reasons why you should carry Collapsible Traffic Cones:
New Technology Used in Traffic Cones – Collapsible Traffic Cones are a new cutting-edge technology and they give everyone the ability to carry them because of the lightweight materials used. Traffic cones are the same height and dimension as traditional safety cones, but are packed almost flat in a square-shaped case that can hold two, four and even five cones.
100% Safety Provider: Collapsible Traffic Cones give early responders and crews the safety they need to avoid danger when they stop to help motorists. They also give responders the ability to divert traffic from a specific location.
Industry

Standards

: Traffic Cones come in traditional orange with reflective color and are lightweight and compact for easy storage. They're also available with a flash or steady light which can give you the highest safety standard.
Choose only the best Collapsible Traffic Cones!
Related topics: Collapsible Traffic Cones and Collapsible Traffic Cones Info