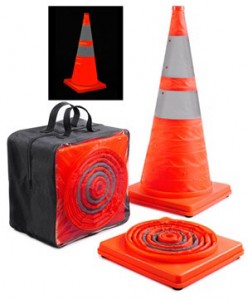 Safety or road cones are mainly known as collapsible traffic cones. This is because of their daily use as a temporary device to divert vehicles and pedestrians away from an area that may be unsafe. Unsafe areas may include where road or construction work is taking place. It can also include emergency situations such as vehicle accidents or lane closures.
Colors
These devices are available in a variety of colors. The main color of choice tends to be a bright fluorescent orange. The secondary colors of choice are usually red, pink or yellow due to the brightness of their color.
Indoor/Outdoor Use
Although they tend to be used mostly outdoors, these devices can also be found inside. Buildings may use them to identify safety hazards such as a wet floor. They may also be used to mark a construction area for people to walk around. There are usually signs posted to identify what the hazard is when these are being used for indoor purposes. Consider investing in safety t shirts to add an extra layer of protection.
Lightweight
Lightweight plastic and rubber are the most common materials used in the making of this product. These materials make the devices easy to relocate. Back in 1914 when road cones were first used, they were made out of concrete. This material meant a lot more work was involved in moving them, therefore making them less portable than in modern days.
Collapsible
Recently, inventors have come out with a collapsible safety cone. These devices lay flat when disabled and can be popped up when needed. The base is usually of light weight rubber while the body itself is made of a water resistant nylon material. Due to their lightness, these types of road cones tend to be made for personal use such as a vehicle that has broken down.
Portable
The collapsible devices are extremely portable and space saving as they fold flat and can be neatly placed in the trunk or under the seat of a vehicle. They are very lightweight, usually adding less then three pounds to a load. Because of this, there is no worry to them affecting a vehicle's performance.
Hazards
There are many instances where roadwork and hazards happen at night. Because of this, safety devices may be found with a reflective strip that illuminates the hazardous area when light hits them. This way motor vehicles as well as pedestrians can easily identify the area and avoid it. This reflective strip is usually silver in color, but may also be found in fluorescent green or yellow.
While in different areas of the world that traffic conesmay not always be conical in shape, you will almost always find them being used. Using safety tee shirts is a great way to keep your workers safe.