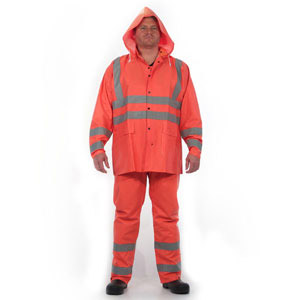 Many occupations require people to work outside in the elements. Whether the job calls for light rain gear which is easy to remove or a full days work in the pouring rain there is rain gear made for the occasion. Without rain gear clothes become saturated right down to the skin which can not only be uncomfortable but increase the chance of becoming ill. Many of the occupations which require rain gear are hourly jobs which do not pay for sick days. This is why commercial rain gear is so important.
Rain Gear
Rain gear should incorporate water proof materials and high breathability. No one wants to be caught in a warm rain but still be soaked because they are sweating inside the gear. Some occupations like a firefighter would also require a fire resistant material.In some cases rain gear is required or employees do not have to work in the rain.
High Visibility Rain Gear
Road crews are often working while it's raining as well as working dangerously close to vehicle traffic. When it is raining visibility is decreased and road conditions are worse. The work environment becomes even more dangerous than normal and these circumstances require a rain gear that is not only comfortable but is also highly visible. High visibility rain gear that is able to protect an individual from the elements and make them visible, utilizing reflective strips and bright fluorescent colors are the only choice for this type of occupation.
Rain Jackets
A rain jacket is meant to keep the upper part of the body dry when it is raining or the person is expecting to be in continuous contact with water. Rain jackets can be lightweight or lined if the climate is cold. Cold climates are one thing but being stuck in the cold and soaking wet is miserable if not dangerous.
Rain Bibs and Pants
Rain bibs and pants are meant to keep the lower half of the body dry. They come in different styles and can be lined for cold climates as well. Many types of rain pants have elastic to help support the pants and keep them from falling under the rain coat. Rain bibs usually have suspenders attached to the pants and can be ideal to ensure no water comes in from under the rain coat. Rain bibs are ideal for those who may be working in different positions and moving around a lot during the day.
Rain Ponchos
Rain ponchos are perfect if someone may come into contact with rain but will probably only be exposed for short periods of time. Delivery personnel and even police officers spend much of their day in a vehicle where wearing a full set of bibs and a jacket would be cumbersome and uncomfortable. These occupations require something light weight that can be stowed easily, put on quickly and removed when not in use. A rain poncho is an ideal type of rain gear for these occupations. Ponchos also come in different colors and can also be highly visible if the job requires it.
When it comes to rain gear there are so many options.You should be able to find the perfect solution for your situation.You can wear other safety gear over the rain gear as well like an ANSI safety vest or even a hard hat to protect your head. This will allow for proper protection as well as aiding in visibility.