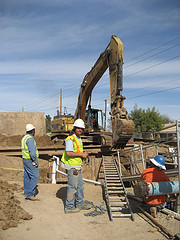 Builders, emergency services personnel and security guards are just some of the people who need to use construction safety vests and other protective clothing. Cyclists, hunters and children walking to and from school are examples of people that use this type of garment for purposes other than working. Most high visibility (Hi Vi) clothing is brightly colored and adorned with silver reflective tape.
Stand Out
The purpose of Hi Vi clothing is to permit the wearer to stand out from a distance, usually to prevent vehicles from slamming into the wearer. Hunters wear Hi Vi gear so that other hunters to not shoot at them. During the daytime, fluorescent colors like green, yellow and orange are genuinely sufficient. After dark, however, reflective tape reflects the headlights of motorists, making the wearer more highly visible from a greater distance. Reflective tape is even more visible if it is used to highlight a part of the body that is in motion, for example, the ankles or knees of cyclists.
On The Site
High visibility vests are often used by people working on a building site where there is a large amount of vehicle traffic, such as delivery trucks, forklifts or motorized trolleys. The more people there are working on such a site, the more chaos and the greater the need to have pedestrians readily visible so that drivers can spot them quickly and avoid running into them.
On The Railway
Railway maintenance workers have a particular need for high visibility garments, especially if they are working on a section of track that is likely to see traffic in the form of trains. Usually, this means wearing bright, fluorescent orange jackets and trousers that are heavily decorated with reflective tape. Momentum is a product of velocity times mass. Trains are very heavy and they move very fast, which means they carry a lot of momentum. This is best kept as far away as possible from maintenance workers.
Colors
The color of vest that is chosen depends in part on the type of environment it is going to be used in. An orange tabard is suitable for traffic that is going over 25 miles an hour. For speeds in excess of 55 miles per hour, yellow is the regulation color.
Waterproof
Not only is high visibility clothing easier to see, it is waterproof as well. Jackets are available in both parka and bomber style. Bomber jackets are shorter than parka and they are gathered at the bottom. Either style may or may not be lined with fleece.
Other Gear
Trousers are available that match Hi Vi jackets. These come in a range of sizes, including children's. When worn together with a Hi Vi jacket, the wearer has complete protection from the elements.
ANSI reflective vests and other waterproof, high visibility clothing make people visible from a distance, at night and in bad weather. This type of clothing may be purchased from a shop that specializes in work wear or via the Internet. The colors most commonly worn by construction workers and members of the emergency services are lemon yellow, lime green and fluorescent orange.