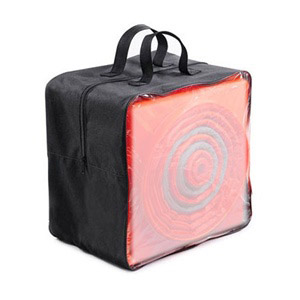 Alerting drivers, pedestrians and bikers of potential hazards is very important and exactly what traffic cones do. These brightly colored, eye catching cones help to warn people of possible danger and keep them out of harm's way. From utility companies and city workers, to construction, police and firefighters, these cones are used everywhere there is lurking danger.
The Most Popular
This type of safety cone is the most popular among those who must use them due to their ability to collapse and be stored and moved so easily. Extending from a two and a half inch height to either an 18″ height or 28″ height, these cones are easily portable and quick to set up. Made of nylon with a 12.5 inch square base made of extremely strong polypropylene, these safety devices are extremely reliable and sturdy. The nylon and polypropylene materials help keep them from weathering while used in bad weather. Another useful safety product is the orange t-shirts.
Visible Bright Colors
Bright colors always seem to get the attention of most. This is why bright orange is the color of these devices along with most other safety equipment. With the two reflective bands on each cone, motorists are able to see them at night and in bad weather, letting them know to proceed with caution. Being alert and aware of what is going on around the driver is a great way to reduce the risk of an accident.
Who Uses Them?
Firefighters
Firefighters use collapsible cones when on site of fires and other emergencies. This tells people to stay back and let them do their jobs so that the risk of someone getting hurt is reduced. Most fire engines are equipped with these collapsible devices. Using these, firefighters help ensure the safety of those around the area in question.
Police
Police officers are known to use these helpful eye catchers as well. During the clean up of an accident, during certain investigations, and even when pulling large vehicles over or directing traffic. Most patrol cars are equipped with these devices as well as sparklers and traffic glowing sticks to alert motorists.
Construction
Construction companies often use large orange barrels around the site where the construction is taking place, unless it is a smaller than normal area. City, utility and construction workers often set out the collapsible orange devices while doing particular jobs, where motorists and pedestrians may drive, walk or bike. This helps to keep everyone around alerted and lets them know to use extra caution.
Anyone
These orange reflective devices can be used by anyone, not just safety officials. Teachers of driver's education classes use them when conducting practices and testing. Many go-cart and race tracks use them to help keep visitors from getting to close to the tracks and to ensure drivers know where all turns and barricades are.
Necessities To Your Business
Fund raising events and different charities that host marathons and other events also use these devices. This allows onlookers to know where to stand to watch and helps runners and participants to know where the path is to the finish line. Professional garages use them to keep people out of certain areas where there might be a hazard or two as well. Collapsible traffic cones are available to purchase anytime, via thousands of websites dedicated to safety. The safety t shirts is also beneficial in these situations to continue to preserve safety. You can also get safety cones reflective collars if yours get worn down.