Even if you have never experienced a blizzard or bad snow storm, it is important to know what to do in the event of a stormy situation. Blizzards can be deadly if you're not properly prepared.  With snow fall and dipping temperatures already in full swing this year, now is the time to get ready. No matter where you are when a storm hits it's important to prepare for any possible situation.
If you're on the road and you get stranded during a blizzard, do not leave your car. Your vehicle is the single most important item you have to protect yourself against the elements. In addition, a vehicle is easier for rescue crews to find in the snow. Good items to have in the car during the winter months are an emergency kit, water to stay hydrated, a blanket, and extra scarves and gloves.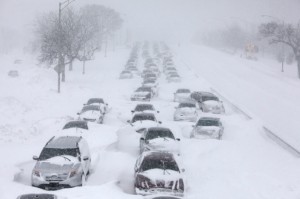 Preparing your home for a blizzard is often overlooked. If your power goes out you will need an alternative source of heat. Make sure you have a substantial amount of fire wood on hand in a place where it won't get wet, such as your garage or in a covered area. Stock up your pantry with essentials. Get lots of water, and healthy nonperishables like canned tuna, beans, and precooked rice. A healthy nourished body is less susceptible to illnesses.
If you're in the elements during a blizzard, seek shelter immediately. Harsh winds and freezing temperatures can decrease your body temperature fast, increasing your risk of hypothermia. Get to a heat source immediately to keep your inner core warm. Keeping your feet dry is also important in preventing frostbite, we suggest investing in water proof boots like these slush boots to keep your feet warm and dry.
How are you preparing for the stormy season? Join the conversation, share with us now!
Viewbrite Safety Products Facebook
Viewbrite Safety Products Twitter
Viewbrite Safety Products YouTube