According to the 2010 C&P Report, in 2008, 80.5% of highway capital expenditures were allocated to system rehabilitation and expansion of existing roads. For system rehabilitation, this expenditure is about $40.4 billion. Highway workers are exposed to all types of danger both in and out of their work zone. Barricade, flagging, and traffic cones protect highway workers from oncoming traffic but there are other hazards to beware of including heavy machinery, chemicals and weather conditions.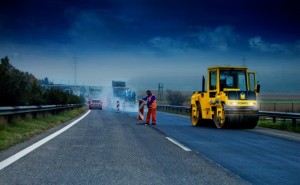 There are many types of safety gear to help protect traffic workers from injury. Thick work gloves are a necessity especially for employees working out in the elements. However, being visible is the number one concern for those working on high traffic road ways.  ANSI certified Safety jackets are an important investment as they serve multiple purposes for you and your employees. For example this Hi visibility bomber jacket is ideal for road construction in the colder months because it offers a removable fleece liner, adjustable hideaway hood, 2 external hand warmer pockets, double flap storm front and a waterproof shell. It's also ANSI approved, so you know you're getting a quality product.
Good quality safety gear is a business investment that comes with long term benefit. We are committed to keeping your traffic workers warm dry and safe this winter. Products at ViewBriteSafety.com are manufactured to meet all types of working conditions. Our team has personally tested every item we sell online. This ensures our products meet the real world demands of our customers and their respective industries.
Which product or clothing do you find most effective during the winter months? Share with us now!
Viewbrite Safety Products Facebook
Viewbrite Safety Products Twitter