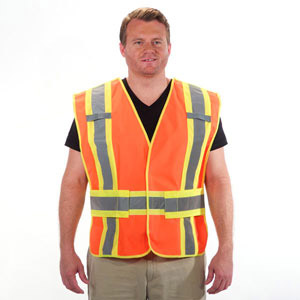 Just by glancing at the statistics, it's easy to see just how dangerous the construction industry is. Doing a little research shows that thousands and thousands of people are injured on the job every year, and more than a hundred actually die. Not all of these deaths and injuries can be attributed just to carelessness, either. People with years of experience and who wear safety vests and people who don't even operate the machines get hurt, but there are ways to reduce the statistics.
Construction Safety
If you look, you will find that there is no shortage of advice and useful tips on how to reduce construction site hazards. Because so many of these accidents are preventable in nature, all it takes is a little awareness to keep them from happening. A good way to start is by making sure everyone on the construction site is wearing safety gear. These vests need to be FHWA-approved, ANSI Class 2 or Class 3. If your team is lacking in vests, going online to get them is an excellent way to go, as you can order in bulk to save time and money. These vests are vital, particularly in bad weather conditions, at night, or when construction is taking place alongside busy highways. If you want to increase safety even more, look into more useful tools, such as lighted traffic cones, safety rain gear, hardhats, and more.
Machinery Safety
One extremely common source of injury is the simple act of getting on and off machinery. Such a easy and familiar task doesn't seem like it could be that dangerous, but there are a lot of things that can cause problems. Boots caked in dirt have little traction and become slippery. Footholds or handholds that are short or just not present can be a huge issue, as well as boots and gloves that are low on traction.
Equipment
Loading and unloading equipment can be blamed for many construction injuries. There are many things that can make this job hard: slippery ground, surfaces that are difficult to hold traction on, uneven surfaces, and more. When conditions are less than ideal, additional safety steps are important.
Conditions
Yet another frequent source of injury is a crowded site, particularly when there are workers operating heavy machinery. Many injuries involve getting too close to a machine, and so a great way to prevent injury is by simply prohibiting workers from coming within a certain distance of operating machinery. Repositioning the machines, going in reverse, and transporting materials can be hard enough, so keeping workers out of the area means the operator has an easier time getting the job done. By setting up a rule keeping people from getting too close to the machines while they're running, you can easily prevent one of the most common forms of injury on construction sites.
Materials are often moved by means of machines that carry them through the air, so calculating swing radius and then marking that area off can help prevent injuries from happening. Oftentimes, the apparatus as well as the materials being moved cannot themselves me controlled, and this only makes things more dangerous. While there are some important safety tips here, common sense is a huge part of job-site safety. The first thing you can do is make sure everyone has the proper safety vests with safety t shirts, and then build on from there to make sure everyone stays as safe as possible.