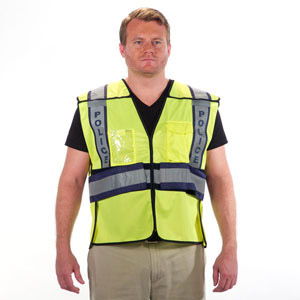 Standards for the safety and awareness of such employees as police and fire personnel, emergency and road workers, utility and construction employees, as well as airport ramp employees are important. ANSI Class 2 developed these standards primarily concerned with safety wear and accessories that are easily visible and able to draw attention. Such articles that are covered are shirts, vests, outer and rain wear, safety vests and head gear. The class 2 was designed to be visible in all conditions day, night or low light situations.
The American National Standards Institute
The American National Standards Institute (ANSI) was formed in 1918 by formal engineering groups and government agencies. The institute has been the administrator and primary coordinator in the US since that time. To this day it is still a non-profit organization and is membership based. Its constituency consists of organizations from both the public and private sector.
Standard Developing Organizations
ANSI accredits SDO's or standard developing organizations on products such as safety vests. The two sets of organizations work together to develop safety standards throughout the country. These standards are decided upon with the consensus of the SDO's, the ANSI and the organizations they support. They are totally voluntary. In order to remain in compliance each SDO is constantly held to a rigid set of requirements.
Fluorescent Reflective Material
The class 2 requires that the background material of the garments must be fluorescent and reflective. The colors, when worn in a working area, must be completely different than that of the environment. The suggested fluorescent colors are green/yellow, red and orange/red. The jacket should be full length with full sleeves and a hood. As with all requirements, these standards have been developed, reviewed and approved the ANSI and SDO under a mutual interest of openness, balance, consensus and due process.
As far as the reflective material is concerned, a band that completely encircles the torso should be present so that it can be seen from all angles. There should be an additional strip on the arm from shoulder to elbow. Yet another reflective strip at the wrist area, two inches above the cuff line. This many areas of reflective material insures maximum visibility.
Durability
These garments and especially the reflective material must stand up against abrasion and rainfall. When laundered numerous times the material should retain its reflectivity. A series of tests are performed to ensure all these needs are met. Additionally the material is tested to see how it folds in cold weather and measures the flexibility.
Safety First
Reducing the chances of being injured or killed while on the job is what these standards deliver. These requirements are proven effective towards injury by motor vehicle and moving equipment. Professions, organizations and companies the make it necessary for their employees to abide by these standards do so with safety at the top of consciousness.
Testing
Independent, third party laboratories test all the garments prior to being certified by the ANSI. Specific guidelines for the kind of tests that should be conducted are given to these laboratories. A pictogram must also be provided that shows the class and level of the garments. ANSI continues to try to improve these standards and the class 2 has been revised once since their creation.
When accidents happen in the work place, they can cost money and time to both employer and employee. However, the greatest tragedy is that of loss of life or limb. The ANSI Class 2 standards are present to minimize those emergencies first and foremost on items such as safety vest.