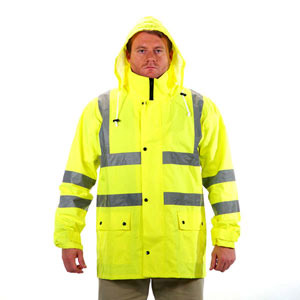 Many jobs require uniforms or other particular work wear. Out of those jobs, some also require clothing suitable for outdoor elements. Some workers are dependent on special clothing for winter and summer storms for not only their comfort but their safety as well. Check out this information about selecting the rain gear you or your workers may need.
Assorted Styles
Assorted styles are available for weather resistant clothing. The type of work and environment you or your fellow workers are in determines the clothing you need. Before you set out shopping, make a list of the items you need the most. By doing so, you will not only save money but time as well. In some cases, a check with particular safety standards is important to your choices.
Emergency Workers
Emergency workers sometimes face dire situations in every kind of inclement and unsatisfactory weather. Any kind of clothing worn by these professionals should be comfortable and easy to move around in. Instead of long rain coats, choose shorter and closer fitting jackets with weather proof pants. Rubber boots should be well fitting and durable enough to last through every condition that could possibly occur.
Different Levels Of Durability
The styles available for weather resistant suits offer a suitable choice. One style may be more appropriate for firefighters while another is better suited for an emergency medical technician. Another tip to keep in mind when you are considering rain wear for different kinds of work is durability. You do not want rips or tears to occur when you are in the middle of a serious issue.
Reflective
Some positions may require workers to wear reflective rain suits and safety vests. Consider the levels of visibility in some situations. Many choices are available for durable, reflective garments. Some suits are one piece resembling coveralls and are perfect for tasks that require being in bad weather for long periods of time. Suits like these usually include a hood that is long and drapes over the shoulders for even better protection from the elements.
Reflective safety vests are an important aspect for some jobs that are dangerous. Construction crews working on open roadways are required to wear bright reflective vests. Some rain gear come with vests for making it a bonus package while you can also choose screen printed designs and logos appropriate for each job.
Make The Right Choice
Whether you need poncho style or close fitting rain gear, making the right choice can be important to those workers wearing it in an emergency situation. Clothing items worn by these professionals need to be durable and comfortable while also providing a high level of protection in some cases. Always consider every aspect of the work environment before choosing the safety clothing you may need for distribution among workers.