It's officially February and now that the holidays are behind us it's the perfect time to evaluate your company safety products. Whether you use vests, hard hats, or protective eyewear at your business it's important to get your gear up to date and make sure you are meeting the latest ANSI standards.
There are different types of safety standards in the U.S. Two you should know about are Occupational Safety and Health Administration (OSHA) and The American National Standards Institute (ANSI). ANSI protects employees against hazardous work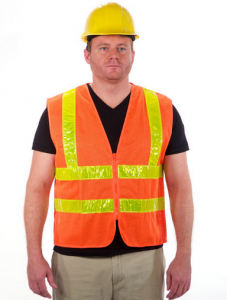 environments by setting protective clothing standards. OSHA assures safe and healthful working conditions by setting standards to enforce proper training, outreach, education, and assistance.
The value of the ANSI designation signifies the commitment of a high quality product. Look for the ANSI label when purchasing new safety products for your 2013 inventory. This will ensure your products are up to date and safe for your employees. All federal government workers are required to use ANSI certified products. In addition ANSI provides a legal safeguard to you and your company. The Standards Development Organization Advancement Act of 2004 provides protections, including a limitation on antitrust liability, to organizations.
Providing a work environment with the proper safety gear is an important step in running a safe and successful business. Be ahead of the game in 2013 by preventing problems before they happen with proper safety equipment and clothing.
Which safety gear do your employees use? Share with us now!
Viewbrite Safety Products Facebook
Viewbrite Safety Products Twitter
Viewbrite Safety Products YouTube