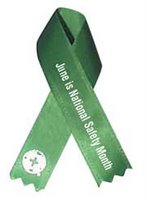 The National Safety Council is leading the charge once again, with its promotion of June as National Safety Month.
Included in the short list of focal points for the month is Driving Safety. A special emphasis on this topic will take place the last week of June.
Driving Safety is most commonly known to be the responsibility of the driver of any vehicle. While this is true, other people can have a positive impact on driving safety. For example, passengers in any vehicle can help by serving as a navigator and by not causing unnecessary distractions.
Another group that can help driving safety are the hard working crews that perform roadside construction and maintenance. They can help in a variety of ways, such as:
Take time to learn great safety tips this month to help make driving safer for people behind the wheel, passengers, and roadside work crews.