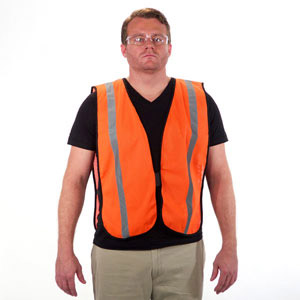 Safety vests are bright yellow/green or orange vests that may or may not have reflective tape on them. They are used to increase the visibility of the wearer to protect them in various situations. They are inexpensive but are highly effective. When looking for low cost safety vests, it is good to know what the requirements are and choose accordingly.
Visibility
Safety vests are either yellow/green or orange and sometimes red but are always bright. They may have stripes of reflective tape down the front and back. The goal of the bright colors and reflective tape is to make the wearer highly visible day or night.
They can be used to make those who work along the roadside more visible to cars and decrease the chance of a worker being hit. The worse the visibility and traffic conditions, the more reflective tape is needed. They are also used at construction sites and by hunters. There are also an increasing number of average citizens using them such as cyclists, motorcyclists and joggers.
Classes
There are three classes of safety vests. The first class has minimal levels of reflective tape and is for low risk situations where there is good light. Class two vests are more visible, have more reflective tape and are good for situations with traffic and poor visibility. The third class has the highest amount of reflective surface and is good for high traffic, high-speed situations and adverse weather. It is important to get the right vest for the job.
Comfort
Comfort is a consideration when choosing a vest. Unfortunately, it is often overlooked. In a hot and physical work environment, having a light vest that allows for air flow will increase comfort. In contrast, when in a wet work environment having a waterproof vest will increase comfort. There are bib style vests available that are great for hot climates. By making employees comfortable in their required gear, cooperation is more likely.
Printing
Vests can have a printed message. This message may be a business logo, a safety message or the position of the person wearing the vest. When printed on the back of the vest in bold print, these messages stand out nearly as well as the vest itself. Using a message to identify the wearer working in a public area will avoid confusion to their role there.
Even Useful On Children
Parents can protect their children by providing them with reflective safety vests. These vests are good to get for children when they go biking or when taking them on trips into the forest. In some situations, having a reflective vest may save the life of the child wearing it. If children go out trick or treating they may also benefit from having a vest.
In some situations, it is necessary to be visible for personal protection. Whether it is for personal protection, for an employee or a child, the effect is significant. In those situations, it makes sense to wear low cost safety vests. It is important when choosing vests to get ones that best fit the needs of where they are being used. There are even construction vests.