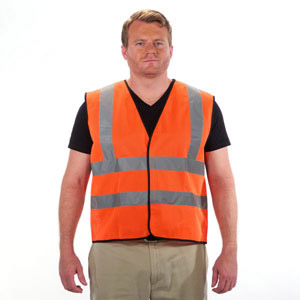 Why are safety t-shirts and safety vests so important for some types of workers? This is a question that seems to be coming up a lot from people who see these items for sale and do not know what they are for. This type of garment is serving a very important purpose that will be discussed here. It is also important to note that certain features are going to be common in most garments of this variety.
Bright Colors
One of the most distinguished features of safety vest is the fact that it will usually come in a very bright color. The two most popular shades are orange and yellow however many neon shades are used for these items. This is because people who wear them are working around moving vehicles and it is very important that they easily stand out to avoid being stuck by a moving vehicle.
Everyone Benefits
It is not hard for a person to imagine the type of workers that are going to benefit the most from this type of garment. Any roadside construction worker is going to benefit by wearing such a garment because there will be so many fast moving vehicles near them. Most of these construction workers are concentrating so heavily on their jobs, that they do not notice every vehicle that passes.
Vehicle Guides
There are other types of workers who help to guide vehicles within some type of parking lots. These workers are going to require this type of garment because they also want to avoid being struck by a moving vehicle. Some people have been known to speed through parking lots. It is also very important to remember that even being hit by slow moving vehicles could result in injury or death.
Outdoor Jobs
It is also very important to note that the type of professions being discussed here will typically have a person working outside. There are certain parts of the world that get very cold during some seasons. This is why so many companies are offering jackets that serve the same exact purpose. They help people to stand out but these jackets are much warmer than a cotton garment.
Reflective Materials
It is not very unusual for people who are shopping around for such garments to notice that many of them seem to have reflective material attached. This is very common and such a design is a great way to make a garment all the more effective. A lot of companies will sell reflective materials that can be attached to such garments, as well as hard hats and other accessories that keep a worker safer.
Where To Get Them
There are many people that realize that they are going to need items such as these for their job, but they are wondering where they might go to find these items. There are so many popular retailers that sell these types of items to the public. The web is just full of specialty retailers that are going to allow consumers an opportunity to save the largest amount of money.
It is hoped that the reader is better able to understand some of the more basic concepts behind safety t shirts after reading this piece. Anyone who is working even remotely near any type of roadway might want to consider the value of safety vests.