Construction work is a labor intensive job filled with daily opportunity for injury or even fatality. According to Occupational Safety and Health Administration (OSHA) nearly 6.5 million people work at approximately 252,000 construction sites across the nation on any given day. Although the number of injuries in construction has significantly decreased over the years, it still remains a high risk industry.
A couple of common hazards for construction workers are scaffolds collapsing, and failure to use personal protective equipment. These incidents can be easily avoided with training, education, and precaution. Here are some easy ways you can prevent these common hazards from effecting your job site and employees.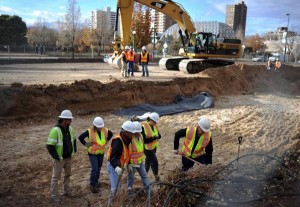 Have someone onsite to monitor the job site and inspect scaffold platform sturdiness. Ensure the scaffold is at least 10 feet away from electrical power lines, and equipped with guardrails. A second set of eyes may prevent unnecessary fall injuries from unsound scaffolds.
Failure to use personal protective equipment such as closed toed shoes, hard hats, and safety glasses can decrease the chances of otherwise avoidable injuries. With proper education, equipment, and precaution construction related injuries can be substantially decreased.
Could your employees use some extra training or protective equipment? Join the conversation, share with us now!
Viewbrite Safety Products Facebook
Viewbrite Safety Products Twitter
Viewbrite Safety Products YouTube