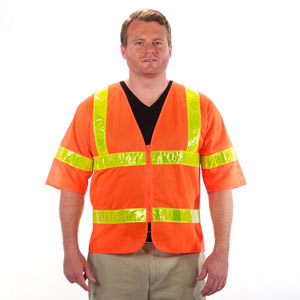 As a person is going through life, they are unable to determine when they will get into an accident. It is; therefore, advisable for people to stay prepared for any event that might happen to them. It does not matter what situation a person is in, they must keep their safety in mind. They need to ensure that they do not expose themselves to injury by taking into account the appropriate measures. In such cases the importance of safety vest cannot be emphasized enough.
Protection From Injuries
The purpose of wearing the clothing is to ensure that a person does not get injured. Authorities describe it as a highly visible piece of clothing, such as lime t-shirt. Manufacturers make it from brightly colored material aligned with retro reflective material. In the event a person feels that they are prone to accidents they can wear them to protect themselves. A person can buy the clothing for their own personal use or they can use them as professionals.
In Traffic
The clothing is very useful when in traffic, there are models specially designed for that. It is a favorite for the people who ride bicycles on the roads. As soon as it gets dark, the visibility of any driver is impaired. Since driving at night is tricky, they are concerned about other things so they might not see people on the road.
When a driver is driving recklessly they can easily hit a pedestrian even when they are on the pedestrian walk. In order to avoid such accidents from happening the pedestrians are encouraged to wear reflective clothing to make them more visible. As long as a person is wearing the clothing every driver that passes them will notice their presence. It is really hard for the item to blend into any surrounding so it will adequately serve its purpose.
On The Job
It is also very easy for people to encounter certain accidents while they are at work. This mostly happens when they work without wearing any protection. When construction workers are on site they are required to wear a special type of clothing.
The pieces of clothing are considered as an integral part of their safety equipment. They have to be authorized by the relevant authorities as the standard choice for the construction worker. During a construction, the workers can get injured while on site or on the road. It is therefore, essential for their employer to ensure that they are wearing the required safety equipment.
Bright Colors
The clothing comes in various flashy colors such as orange, neon, green and yellow. A person can also opt to purchase the meshed ones that have elastic on the side and have a hoop. There are various sizes and shapes to choose from. When a person is wearing the item they have a lower risk of getting injured.
It is possible for a person to purchase the safety vests over the internet at affordable prices. There is a catalog that illustrates how they look and then a person can choose the model they like. Another viable option for safety clothing is lime t-shirts. A person is able to determine the credibility of the online merchant by reading the reviews written about them.