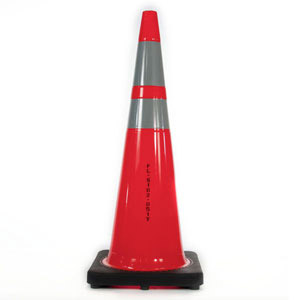 Traffic cones might seem like a rather common item and just about anyone who has traveled a busy city street has seen one. But there are many other places where these safety devices can be found, both indoors and out. Let's take a look at some of the details involved in these safety markers that help protect lives and property.
Proper Use
To correctly use these safety markers, there should at least be 3 of them around any potential hazard, object, or damaged area at a distance that creates a buffer zone. Each cone should have sufficient reflective material around it and can be reflective tape. They should be clearly visible during both daylight and dark and in places that are conspicuous to all motorists and pedestrians. Also, orange t-shirt should be warn to prevent further accidents.
Traffic Control
Traffic control can include both highway applications and private property necessities. Road construction often requires rerouting traffic to create a new temporary lane and these devices are used to mark off the area. They are also used by officials at event gatherings to designate areas where neither humans nor vehicles are allowed. VIP parking might be another use for these markers.
Damaged Pavement
Damaged pavement might not be the only reason for having these hazard warnings in place. Certain areas may have numerous blind spots where motorists and pedestrians can't see some activity being conducted around a corner. Possible protrusions or overhead obstacles could occur without warning and if the area is not marked off, human beings could become injured.
Parking Spaces
Parking spaces are typically lined off to indicate what area is available for a vehicle to use and these devices can be used to prevent use of a space for whatever reason exists. Delivery truck drivers often place these around the unloading area to alert people that some type of activity is going on and when a parking space is damaged, it can be marked off with traffic devices to prevent use.
Damaged Parking Lots
Parking lots may have damaged surfaces and until the repairs are made, these safety markers can alert motorists of potential danger as well as block off access to the space. Delivery trucks are often parked where it is necessary to establish a perimeter of safety for loading and unloading. Cones can be used to mark off places where no parking is allowed.
Indoor Use
Indoor use of these cones can be to mark off a wet or damaged floor as well as mark off the accepted path for people walking through the building. They can also be used to mark off a work area such as in a mechanics shop or where a welder is being used. Damaged or missing floors should be marked off with these devices and additional materials placed over the opening to further help ensure public safety.
Traffic cones are certainly not toys. They, just like safety t shirts, provide a means of protecting life, limb and property. When there is a situation that could pose a potential threat, these brightly colored and reflective devices should be used to help people realize that there could be a hazard ahead of them.