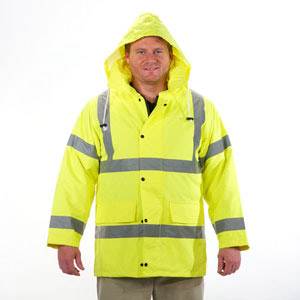 Safety clothing is manufactured and sold to serve many professions. People working in hazardous environments need protection from a variety of things. An X ray technician and a dentist need to wear lead aprons due to their repeated exposure to low levels of radiation. Dentists and dental hygienists wear protective goggles when working on or cleaning patients teeth.
Visibility Garments
Construction workers are one example of those exposed to danger on the job. When repairing highways that are not closed to traffic, they are at risk of being hit by a car and sometimes are killed. High visibility garments of all kinds are manufactured for them. They have reflective tape on the front and back of the safety rain gear to make them easy to see. Some drivers are not influenced by the orange safety cones intended to warn them the workers are there.
Protective Clothing
The population is cautioned to use sunscreen regularly. Now safety clothing is made of a fabric that protects the skin from overexposure to the sun. It has been produced and worn in Australia for over a decade. The garments made from SPF protective material are both fashionable and protective for people who spend a great deal of time in the sun.
Safety History
Most people remember the old Western movies where the cowboys wore boots and spurs and chaps. Those chaps were not a fashion statement. Cowboys wore them over their blue jeans to protect their legs. Chaps made of thick leather kept the thick brush from scratching their skin as they rode horseback and rounded up cattle out on the range.
Protect Workers
Chaps are now made and worn to protect workers using a chainsaw. Professional chainsaw operators, such as lumberjacks, need to protect their legs from being cut accidentally. There are also trousers made for this purpose. They are made of thick leather on the outside. Under that is a layer of ballistic nylon. If the outer layer of leather is cut, the fibers will wrap around the chain to stop the saw blade from cutting into the lumberjacks leg.
Proximity Suits
Firefighters wear a proximity suit when they go out to fight a fire. It protects them from high temperatures. Once made of asbestos, these suits are now made of vacuum deposited aluminized materials.
Three Styles
There are three styles of this safety clothing. An approach suit is made to wear in smelting factories and steel mills. Aircraft rescue personnel wear the proximity suit, as do firefighters. For those who may be engulfed in flames, there is the entry suit. It is used mainly by stunt men and women in Hollywood and race car drivers around the world.
Safety Gloves
Race car drivers routinely wear protective driving gloves. Originally designed to improve the grip on a steering wheel, these are now highly regulated. Designed to protect the hands in case of fire, they are required to have tight cuffs and withstand testing against flames and molten debris. They must also be made in a high visibility color to enable the driver to signal for help, if needed.
Dangerous Areas
Each dangerous area of employment has special safety clothing designed to protect those who wear it. Police officers wear bullet proof vests. Soldiers who dismantle bombs wear an entire suit for protection. Workers in chemically hazardous environments wear a suit that covers and protects them. Traffic directors wear rain suits in case weather condtions change. All of this gear is intended to keep brave men and women as safe as possible as they perform dangerous and sometimes life threatening jobs.