Most people rarely think about safety cones in their daily life. It's easy to disregard the important benefits they provide us on a regular basis. However, these simple plastic cones protect us from common dangers every day.  For instance, they save even the most skillful drivers from running over hazardous potholes. They are useful in blocking off construction sites and creating safety zones when we need them. Here are 4 ways safety cones keep you, your employees, and your community safe from harm.
Create safe zones. Imagine road workers repairing a pot hole without proper safety gear and traffic cones. Those bright plastic cones prevent car accidents, injury, and chaos from occurring on busy highways, and in high traffic areas.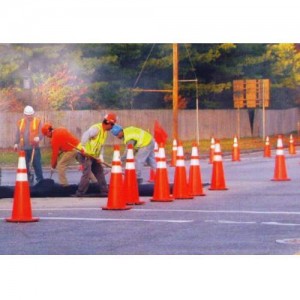 Manage Traffic. Our society relies on traffic safety cones to redirect traffic by merging two lanes into one or creating an alternate route. At night lighted traffic cones can save lives in these situations.
Identify hazards. Whether driving through congested traffic or walking home safety cones help you avoid danger from a distance. Thanks to their bright orange color, and reflective properties.
Control crowds. During times like New York City's New Year's Eve celebration, cones are necessary to control the chaos and maintain public order.
Safety cones are understated yet powerful in the safety field. They protect us from daily villains like traffic accidents or construction hazards. How do safety cones benefit you? Share with us now!
Viewbrite Safety Products Facebook
Viewbrite Safety Products Twitter
Viewbrite Safety Products YouTube