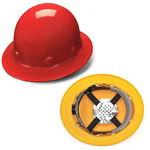 Safety gear is the most important equipment in any job field that involves dangerous operations. Because personnel need to be protected, manufacturers are constantly creating new items for protection purposes. Clothing of this type can be purchased online and in specialty stores depending on what type of safety gear is required.
Protect The Head
Protecting a person from head to toe begins with the head and this means starting with a hat. Hard hats are the most common models used in construction and industrial sites all over the world. There are quite a few different designs and some incorporate football,hockey and baseball team logos. Also, there are different shapes such as a ball cap model and a full brim design offering the wearer maximum protection.
Protect The Eyes
Eye protection is also very important and should not be uncomfortable while being worn for long periods of time. Glasses offered are designed in the theme of sunglasses versus the older style of goggles. Ear protection in the form of muffs and earplugs are also used in areas where noise is a consistent companion. The earmuff designs can be fitted into hard hats to make it easier to keep track of them and to avoid losing them.
Protect The Face
Areas that have particulates flying around such as paint shops or booths require facial protection. These types of positions require the use of full-face respirators and, in some cases, mouth respirators depending on the amount of chemicals or debris flying around. The full-face models resemble gas masks used in early times and provide clean air for the person wearing the device.
Protect The Body
Protecting the body itself can be accomplished by wearing a safety vest or jacket specially designed for visibility and protection. The safe versions of this clothing are generally created from bright colors and have reflective material attached to it. Other styles are heavier in construction so they will protect the wearer from dangerous materials that may penetrate a lighter coat.
Protect The Hands
The hands are all too important to forget when adding protective coverings and for this reason, there are many different types of gloves available. Some of the gloves are made from leather making them ideal for handling sharp objects. Other styles include a range of rubber designs that vary in thickness so they can protect a person from chemicals and also provide exceptional mobility.
Protect The Feet
Feet are another area of the body that should be protected when working in areas such as construction sites and industrial areas. For this reason, there are steel-toed boots available that not only protect feet from objects falling on them but also provide a comfortable walking experience. When the situation calls for areas that are flooded or have chemicals, there are specially designed rubber boots as well that protect feet from harm.
Recap
As stated above, safety gear is very important for any company who deals in areas where a person can be harmed from their job. Because of the need for quality equipment, the manufacturers are constantly improving on existing designs and inventing new preventative measures. The future of this industry is continuing to evolve and this is a good thing for workers all over the world. You can also get safety rain gear.