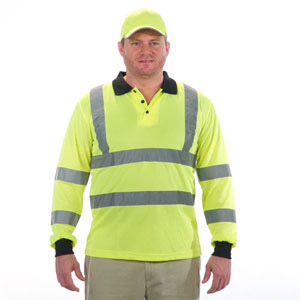 A safety green t-shirts is the best technique to be witnessed when doing work outside. The t-shirt not only permits the individual to be noticed, it's cool and comfy, as well. A t-shirt can also be a low priced investment which can simply be taken care of. They could also be labeled in order to identify a person as a team member. Obtaining quality will allow the safety green t-shirt to be put on numerous times.
Staff Members Shall Be Seen
Whether it's an automobile accident scene or road development, the area can often be confusing. By providing the workers safety green t-shirts they can easily be seen. This can be particularly significant at night or in inclimate climate conditions. Scientists have confirmed that people can see green at a far range. This gives motorists enough time to comprehend what's going on and keeps your workers from getting injured. After all, a hurt staff member is of no use to anyone. Most times it leads to time absent from work and the job possibly not getting accomplished on time.
Very Little Cost
Even a quality lime t-shirt may be a inexpensive investment. When they're worn workers are easier to see. The end result is a lesser amount of injuries, and much less workman compensation claims.. In fact, the government states that t-shirts are not a uniform.. As a result,employers can, if they choose, require workers to produce their own. Often times a business or organization's finances are very restricted and t-shirts are quite affordable.
Improved Comfort
Most safety green t-shirts are manufactured from 100 % cotton. Cotton will allow the employee to breathe better even in severe temperatures. It is just a single layer of attire so your team member stays cooler. As a result, they will take fewer breaks. This allows the team member to become more prosperous, getting the project finished sooner. The t-shirt is a extremely comfortable item of clothing, given that it fits nicely.
Ease Of Maintenance
The safety green t-shirts can simply be washed and dried. Staff members really like this fact. They're able to simply toss them inside the washer with the rest of the clothes, dry them with all their clothes,and they're set. This can be a significant advantage, considering that most of us live really hectic lives. For employers who prefer to get their employee safety green t-shirts laundered, the fact that these are made out of 100 % cotton will reduce the cleaning cost. Have a staff member pick them all up and drop them off at the Laundromat. A few hours after they are ready for the workers to use again.
Recognition
You can easily label a safety green t-shirt. This allows the public to identify them as representing your company. This can be specifically crucial if the staff member has to deliver directions to the general public in disaster situations. By simply applying the employee name on the back, it's easier for people to do the job alongside one another as a team. Improved teamwork results in elevated productivity.
The safety green t-shirts are of superior quality. They really provide much value for the money. The lime t-shirts withstand the punishment that working people hand out and are incredibly easy to look after, while staying comfortable.