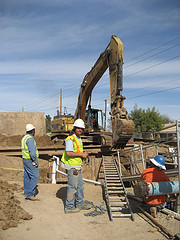 How many times have you driven down a road or highway and seen construction workers working a little too close for comfort to the busy road? Unfortunately, the job of a construction worker often puts them in potentially dangerous scenarios, including working mere feet away from a highway. Thankfully, there are plenty of safety enhancers that help protect these workers. This includes high-visibility safety vests, the usage of one or more lighted traffic cone, handheld spotlights, and more.
ANSI Classes
Being close to busy roads only makes construction jobs that much more dangerous. After all, more than 100 people are killed and more than 20,000 injured from working along the roads. In order to lower these numbers, the FHWA created a rule that only ANSI Class 2 or 3 vests can be worn on site. If you are part of a construction team or are hiring some workers, make sure everyone is protected with the best safety gear. This way, everyone can have an advantage despite all the hazards that come with construction.
Safety Cones
There are plenty of ways you can stay safe on construction sites, thanks to the wide selection of safety tools, like safety cones reflective collars. One that is required for workers to wear is the safety vest, which generally come in bright orange or bright green for construction workers. Other professions have other colors, such as those for EMTs, police, and more. So when you're getting safety vests, make sure you're getting the correct one for the correct job.
Boots
Sturdy boots are another important safety tool. Flexible yet strong PVC boots with a steel toe can be a huge benefit to workers, as construction sites can often contain plenty of hazards for a person's feet. Sturdy gloves are another important tool, and they can help protect a worker's hands from becoming chaffed or scratched when working with wood, metal, or other materials. Hardhats are a quintessential component to any construction job, as protecting the head is one of the biggest concerns on unstable construction sites. High visibility rain gear is exceptionally useful when bad weather comes around, which can make a dangerous construction site even more dangerous. All of these safety garments and more are available online, and bulk pricing makes it easy and affordable to equip an entire team of workers with the best safety gear.
Traffic Cones
The lighted traffic cone is a very useful safety tool. With a bright orange color, reflecting tape, and a light, they can help protect workers close to the road. Many are collapsible as well, which makes them easy to take from place to place. Even regular drivers can benefit from these cones, as they won't take up a lot of space in the car and are very useful if you're experiencing road-side issues.
When it comes to construction, safety is of the utmost priority. Making sure you or the team working for you is properly equipped can help prevent injuries with items like safety cones reflective collars. If you are looking to get some lighted traffic cone, go online and check it out, as there is a huge selection available all in one spot.