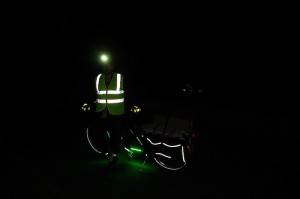 Every driver who has ever been on the road during periods of dim light or at night has seen people wearing safety reflective vests. These brightly-colored garments are designed with just one purpose in mind: to ensure that the people who wear them are adequately visible to traffic. Because they are designed to increase visibility, they are an important part of many people's lives.
What They Do
In the past, there was a variety of bright garments that were ostensibly designed to make pedestrians, bicyclists, and others safer when they were on the road. Many of these shirts and pants can still be seen in use today. The modern vest in question differs significantly from those older technologies in that it is specifically designed to be seen in low-light conditions and from a variety of angles.
The old style of vest used bright colors but it often failed to reflect light. As a result, drivers were often unable to see the person wearing the garment until they were too close to avoid him. This resulted in many accidents that could have otherwise been avoided had the right kind of technology been available and in use. The modern vest eliminates that potential.
This is accomplished through the use of reflective materials that ensure that any light that hits the vest is reflected back at the source. In addition, many vest products also include LED light to increase that visibility even more. The end result is a product that reflects light from any angle, thus ensuring that drivers are able to see the wearer from at least one hundred feet away.
Who Needs Them
The average person might think that he would never need such a vest. However, the fact is that these garments are a critical type of safety equipment for people in a variety of occupations. For example, construction safety vests are essential for construction workers who always run a high risk of being struck by traffic whenever they're working on the roads and highways.
These devices are also necessary for police officers, EMT workers, firefighters, and others. These professionals are often forced to provide their services at night and are often placed into high traffic areas. With the proper vest, they can be better protected against being struck by drivers who might not see them.
While they are primarily designed for these high-risk professions, there are very real benefits to anyone who wears them. They can be essential for drivers who may become stranded on the road due to a breakdown as well as cyclists and others who want to ensure that they stand out in traffic. Anyone who might be out on the road during any period of low visibility can benefit from this device.
The simple fact is that there are always dangers associated with being on or near any road. For those involved in construction or who provide critical public services, these dangers are an ever-present threat. Those dangers can be dramatically reduced when safety reflective vests are properly worn.  There are also safety t shirts available for underneath the vest, to provide added visibility.