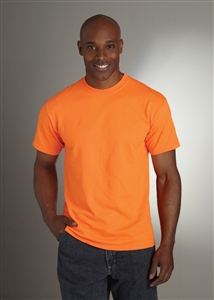 Employees of various high-risk careers are required to wear safety head and eye wear while performing their work. Until recently, those were the only two items of utmost concern. In the last few years the safety standards in many job markets have changed, and one of those changes is orange t-shirt.
Colors
The shirts in bright neon colors, according to what seems to be true, has by all means been an added item to the standard safety rules that has proven to be quite effective. The bright colors are alone an eye catcher. The reflective tape which is often applied to them adds more protection for the one wearing the apparel.
Useful By Many
There are people in many distinct employments who are required by the state they work in, or at the least by their safety manager to wear safety equipment while on the job. Included in the safety requirements may also be the shirts. Apparently the outerwear has proven to be effective in the work place as many are turning to them for safe measure.
Jobs That Require Them
Firemen, policemen, construction workers and many more are required to wear them when they are on the road side or in a situation such as a burning building. They help identify the worker, as well eliminate the danger of perhaps being hit by a motorist, who otherwise would not have seen them. The reflective tape along with the shirt is usually a deterrent toward possible danger.
Comfortable
The cotton shirts come in several different sizes ranging from small to very large. They are cut on a different pattern than the every day T shirt. Cut for comfort, and ease of movement, many have an odor blocker and moisture resistant quality.
Neon
The neon colors did not take long to catch on. Raincoats, jackets, vest, long and short sleeved shirts and safety vests, can be purchased with reflective tapes. However, it seems the short sleeve is the favorite of many. Men and women alike wear, and enjoy the comfortable breathable material the shirts are made with.
Reflective
It is almost impossible to miss the bright cool colors especially when the reflective tape is applied. The tape, as durable as the shirt, reflects light either in the sunlight, or when head lights from cars shine on it. It certainly has proved to be a good device for those who work on the night road construction crews.
Ordering safety tee shirtsonline is easy, however, some employers furnish them as part of their safety program. Who would have every thought a simple safety vest would have so many significant uses for people from all walks of life.