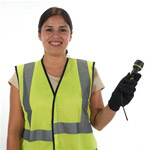 With around nine million people in the construction business, safety is a prime concern in the construction business, and danger comes in more than one front. Construction workers utilize potentially dangerous tools and equipment in an unstable construction zone, sometimes at far heights. Additionally, these construction sites can be located along major roads, making the job even more dangerous. In order to keep construction workers as safe as possible, measures are taken to ensure the conditions are safe, including having the workers wear special equipment to increase visibility, such as a high visibility safety vest.
Stay Visible
A safety vest helps construction workers stay visible, especially near streets with high traffic or in bad weather conditions where it can be difficult to see, both for fellow workers as well as for those driving by. Generally coming in neon green or orange with reflective tape accents, these vests are designed to be very visible, and they are required to meet certain standards.
ANSI Class 2 And 3 Required
In November of 2008, the FHWA (Federal Highway Administration) put a rule into effect, creating the standards for safety vests, making ANSI Class 2 or Class 3 safety vest garments required for those near highways. Around 100 workers are killed and over 20,000 are injured every year completing construction jobs near roads, and this rule was put into effect to ensure these numbers get lowered. With the help of protective gear, you can make sure you or your working crew can stay as safe and as visible as possible when working near busy streets.
Easy To Remove In An Emergency
Safety vests, in addition to utilizing high-visibility color, offer a lot in the way of helping workers. For example, they come a five-point breakaway feature that makes it easy to escape should the vest become tangled in something. Additionally, they are shorter, to make access to a tool belt easier and less cumbersome, and there are Velcro sizing adjustments on the sides, so that the vest isn't too baggy so as to not snag or catch on anything. There are also mic tab holders on the shoulder.
Safe, Affordable, And Necessary
If you are looking to equip yourself or your workers with the best in construction gear, going online can help. With a variety of protective vests, hardhats, traffic cones, and more all meeting the FHWA standards, these sites make it easy to equip workers, whether it's a big group or a small one. There is also equipment for EMTs and Police, which come with the proper labeling and colors to differentiate them from construction workers.
Buy Them Online
Getting your equipment online can be a huge advantage, as you can get everything you need all in one spot. Plus, there's also bulk pricing, which can help you save a lot of money on your equipment. Websites that sell this equipment usually also offer easy-to-use site organization and navigation, as well as fast and free shipping on certain items. Informational videos, product descriptions, lots of photographs, useful information, and more are also available on these sites, making shopping quick and simple. Dedicated and knowledgeable customer service is always an important quality, so if you are in the market for a high-visibility safety vest or any other piece of safety equipment (such as orange t shirts), go online and check it out.