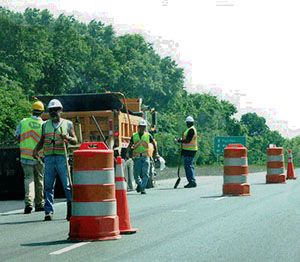 There are a number of occupations that use the construction vests to ensure the safety of their workers. These occupations include fire fighters, law enforcement officers, Emergency Medical Services workers and, of course, construction workers. Working near roadways is extremely hazardous and is often the scene of injury or death for many workers.
Special Gear
Special gear is designed to keep the workers visible to drivers and can help avoid serious accidents. The American National Standards Institute, ANSI, has established standards for the clothing that is designed to be extremely visible to help prevent injury or death. ANSI has organized the gear into three visibility classes for low cost safety vests.
ANSI Standards
These vests are also known as traffic or safety vests. The ANSI standards determine the amount of reflective material a vest must have to be visible in the sunlight and at night. The vest is intended to make the person wearing it highly visible regardless of whether it is daytime or nighttime.
Various Industries
Various industries commonly use the vest to help keep their workers safe by being highly visible to equipment drivers and motorists. Additionally, they help to keep first responders safe and visible. Surveyors, flaggers, site inspectors, construction crews, maintenance crews and truck and equipment operators also benefit from the safety of the vest.
Three Classes
ANSI has established three classes by which the safety wear is categorized. The class one items are in a category for workers who are fully visible by approaching motorists, where there is significant distance between the workers and the traffic, the speed limit is twenty-five MPH or less and the environment does not block visibility. This class of safety equipment is commonly used by individuals who direct traffic or work in warehouses.
Increased Visibility
The class two designation means that there is increased visibility during inclement weather, the backgrounds can obscure visibility, the motorists are moving faster that 25 miles per hour and the workers are closer to the traffic. This class of gear is also used by construction workers. In addition, survey crews, railway workers, utility workers, forestry workers, airport ground crews, and school crossing guards, use the class two gear.
Reflective Garments
Individuals who work in high traffic speed areas and areas of low visibility use class three safety gear. This type of gear is used when equipment operators and other workers function with heavy job loads that automatically put employees at risk. The reflective jackets, construction and traffic vest in the class three category are commonly used by flagging crews survey crews, utility workers and roadway maintenance crews.
Various Classes
Construction vests are available in various classes to offer safety for a variety of industries. The low cost safety vests are used by high-risk occupations to reduce the incidence of injury and death due to the hazards of the work situation. By making the workers highly visible, the vests have played a significant role in decreasing accidents among those who work along roadways and other dangerous environments.