As temperatures rise, so do crime rates. Violence, especially street crimes like muggings, break-ins and assaults occur most often in the spring and summer when people are spending more of their time outdoors.
Law enforcement personnel protect our communities throughout the spring and summer at the mercy of the elements. Here are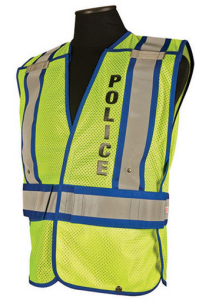 some helpful ways law enforcement workers can prepare and protect themselves in the coming months:
Get in shape. It is important to be physically fit to best perform the duties that come with serving in the field of law
enforcement. Being healthy undoubtedly gives you an advantage when protecting yourself or someone else in need.
Stand out. Wearing a safety vest can protect your life. Choose a breathable, bright vest for those warmer day and evening shifts.
Protect your body. As with any physically demanding job, it is important to protect the most vital instrument, your body. This contoured back brace gives you ergonomic support while providing complete freedom and flexibility under your uniform for the most challenging days.
Do your research, and be aware at all times. Whether you are new to law enforcement or patrolling an unfamiliar area in your city, being alert can save your life.
Law enforcement can be both a challenge and a rewarding experience. As a law enforcer how do you prepare for warmer weather? Share with us now!
Viewbrite Safety Products Facebook
Viewbrite Safety Products Twitter