Shielding your head is crucial for workers at all times. Hard hats should always be worn at job sites and other hazardous work sites in order to keep employees safe and employers protected. Enforcing safety precaution is necessary, but what's most important is safety gear maintenance. If you notice hard hats are cracked, getting old or over worn they won't perform properly in the event of an emergency. Learn the functioning parts of a hard hat, how to maintain them.
There are three components of a typical hard hat. The shell, suspension system, and chin strap. Hardhats are often made from a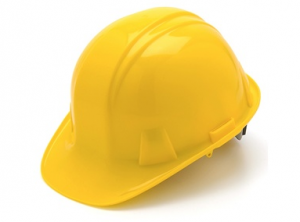 high density Polyethylene, the same product used to protect pipes from corroding. The chin strap may seem insignificant and small, yet it plays a large role. If a chin strap is stretched out or not fully functioning replace it immediately. Without a strong chin strap, your hard hat will not stay in place and not protect your brain. The suspension system fastens to the inside of the shell at 4 points or 6 points. The system is built to absorb some of the impact to a hard blow from a falling object for instance. Keep in mind, if a hard hat ever gets hit on impact; always replace it with a new hard hat.
The general lifespan of a hard hat can range from 2-5 years. Maintenance and proper care will make anything last longer and hard hats are no exception.
Never store a hard hat in direct sunlight
If stained, remove dirt by scrubbing with a mild detergent.
When cleaning a hard hat, rinse with warm (not hot) water.
Once clean wipe dry, and inspect the shell of any damage or signs of extreme wear. Any hardhat showing signs of worn or damage should be removed immediately.
How do you stay safe? Share with us now!
Viewbrite Safety Products Facebook
Viewbrite Safety Products Twitter