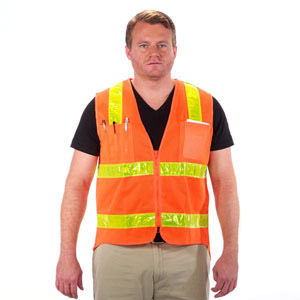 For anyone who has passed a road crew, they probably didn't pay much attention to the clothing but realized they became aware of the presence of the crew because of it. Few people realize that this protective gear is mandated by the American National Standards Institute (ANSI) and comes in three classes. ANSI Class 2 is the one that governs workers in various high risk industries and contains specifications for various aspects of the gear.
Protecting Dangerous Occupations
This class 2 covers a wide range of workers in dangerous occupations. These would include people, in addition to road workers, such as fire fighters, utility workers, police and emergency personnel and airport ramp workers. This type of reflexive gear includes rainwear, vests, shirts, safety vest and other types of outerwear. It must be visible at night or when visibility is limited during the day time.
Specific Requirements
The colors required by this kind of gear are quite precise. It must have reflective materials that cover a specific number of square inches and usually includes a jacket, its hood and sleeves. Fluorescent color is in the background although it may not be reflective. The colors most used are yellow with green, orange with red or red fluorescent. Colors must counteract the surroundings and vehicles, at the job site, so that workers are easily identified.
Protective Tape
The reflective tape required must be a specific length and width on these garments. Reflective bands must be around the arms as well as the torso, separated by two inches. The arm bands must appear between the elbow and shoulder as well as on the cuff of the sleeve. This is a specific type of tape that will be secure as well as reflective. It also must be able to withstand rain and adverse conditions that often apply to people who are engaged in outside work.
Material Testing
Vigorous testing regarding the reflectivity of the materials and the garments is conducted. This testing is quite specific with things such as flexibility, reflection after the garment is washed, resistance to rough wear, cold temperature folding and resistance to rain. This testing is in anticipation of any conditions that might occur when a worker is wearing these garments.
Materials used in these garments are tested by a third party lab. When they meet given standards and guidelines, the garments are then labeled, marked, and instructions on are printed and included in packaging. Various manufacturers produce these products and they must include certification in order to prove they meet the standards.
Different Classes For Different Purposes
This gear comes in different classes and, therefore, selection will depend primarily on the worker's occupation. For example, class 2 vests are required for those who work near heavy machinery or where traffic exceeds speeds of 25 mph. Class 3, on the other hand, have a higher visibility and are required for those who work where traffic exceeds 50 mph.
Compared to OSHA, ANSI standards are somewhat different but ANSI Class 2 work gear is recognized by workers regarding their safety qualifications. Designed to provide protection against external forces that can sometimes become very dangerous, they meet all the requirements. This safety vest has been found to be especially effective when a worker has been in a dangerous situation and only rescued because of the reflective construction of his or her clothing.