When you think of a traffic cone what comes to mind? Traffic cones are used in a number of industries to keep our communities aware and most importantly, safe. Although they may seem insignificant, traffic cones provide a plethora of signs and signals to keep vehicles and pedestrians safe and alert.
There are many common benefits to using traffic cones. They caution for road blocks ahead and provide warning to slow down to detour. Traffic cones can signify dangerous terrain, provide protection for road workers, or act as a sign for new construction ahead. No matter what the situation is, drivers and pedestrians alike pay attention when they see that familiar bright orange safety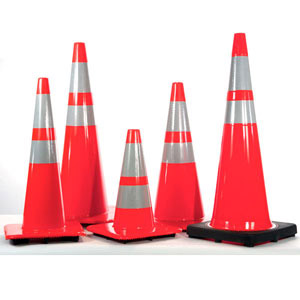 cone.
Although we assimilate traffic cones with danger, construction and road work they can be used in common places too such as a concert, parade and school. In addition to the regular old standby traffic cone, there are collapsible cones. A collapsible traffic cone is an easy and inexpensive way to grab attention with its super bright LED lighting, bright orange color and reflective properties. Collapsible cones are easy to retract and collapse for easy setup and storing, leaving more room to spare.
Many industries use traffic cones in the event of a crisis. If a firefighters need to block off an area due to an emergency or police officers need to protect pedestrians during a sporting event, or street festival traffic cones provide the perfect back up. No matter what kind of traffic cones your company uses, they are worth their weight in gold.
How does your team use safety cones at work? Share with us now!
Viewbrite Safety Products Facebook
Viewbrite Safety Products Twitter