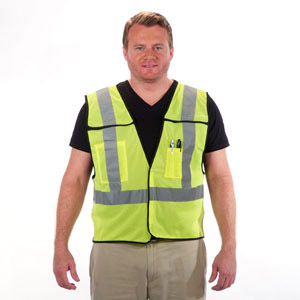 The importance of safety vests is crucial when it comes to saving lives. It certain working situations, it is very important to remain visible. That is the primary purpose of these garments. They are worn by different workers in several different scenarios. We are normally use to seeing them worn or crossing guards but the have many other uses. There are many regulations regarding the use of these garments that are even classes of the items ranked on levels of security.
Road Work
When you see any kind of worker on the side of the road, they will always be seen wearing these highly reflective bright garment. City workers routing congested traffic or parking officials in various types of parking lots, will need to be seen. These garments or lime t-shirts are security precautions that help keep workers safe. They are used in situations where workers are either among motorists or working with dangerous equipment. The are also worn to distinguish personnel in large crowds.
Easy To Spot
Anybody in these garments are extremely easy to spot. They are also worn to become distinctive in big crowds. This is often the situation for security employees in venues in huge stadium events. It also helps patrons in dense crows spot security staff or other kinds of personnel.
Police
Police officers will also wear them when performing jobs that require directing traffic. These individuals often stand in the middle of very heavy traffic. It is very important to be visible in such situations. They also help certain workers to be seen in inclement weather conditions or when the sun is down. These garments are essential for the individual's security.
Construction Sites
Construction sites are also very common places to find these garments. There are a lot of hazards in these locations and it is important for everyone to be able to be seen. There is a lot of dangerous activity happening on a construction site. Individuals operating heavy machines need to be easily seen on a construction site. There are a variety of elements that may obstruct someone's view so it is crucial to make sure workers are highly visible. The florescent garment safeguards the actual worker in addition to those on the site.
A very important user of your safety vest could be construction workers functioning along the roadside. You can find different requirements regarding vests worn by development workers in general. Development workers wear no less than a class two jacket. People working on roads with high speeds need to wear a class a few vest for best protection and awareness.
Other Situations
There are many work scenarios that demand staff to take added preventative measure. Employers in hazardous situations will need to take every one of the necessary precautions harmless. It is also the required by state laws that employee provide safe working conditions for there staff. And if certain garments are needed to ensure there safety, then they will have to supply them.
Safety vests are essential high presence garments that have refractive materials in vibrant neon colors. The colors popular are orange as well as yellow. These colors allow the individual to be seen in an instance where this is vital to their safety. It also helps to identify certain individuals in large crowds. The point is, they keep workers safe by being seen in hard to see situations. An alternate option that provides just as much visibility protection is lime t-shirt.