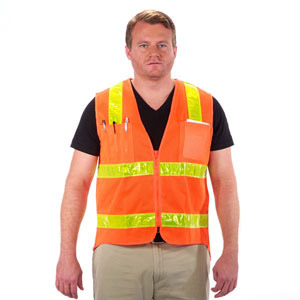 If you work near roadways or your job has the potential to take you into high traffic areas, you probably have an orange safety vest available for your use and are required to wear it. These articles of clothing are specifically designed to meet the needs of those working in or near the road. They provide a reflective image, allowing for increased visibility.
Be Visible
Human eyes, drawn towards brighter objects, make wearing orange safety vests of great importance. Especially in areas of high traffic where a driver may experience poor visibility. Wearing lighter clothing can actually blend into the background making the person less visible to drivers. This type of clothing can offer protection and ensure that these individuals are visible to drivers, avoiding any accidents.  For added visibility, a safety tshirt should be worn underneath.
What Jobs Need Them?
This type of clothing ensures the protection of police officers, EMTs, firemen, construction workers and more. They can be found in a variety of vibrant and fluorescent colors. When working in poor weather conditions that make visibility worse, there are class 2 vests that may be a better option as they provide a higher level of visibility. For workers in higher risk environments, there are also class 3 safety vests that provide the highest levels of visibility. These are suitable for nighttime use or drastic weather conditions that may make visibility low.
LED For Extra Visibility
Some of this clothing will also feature flashing LED lighting and is typically seen on emergency workers such as EMTs and police officers in response to an accident or other emergency, especially in high traffic areas. These reflective, LED vests are perfect for nighttime protection.  Even some traffic cones come with LED lights.
LED lighting not only provides an additional measure of protection but is also very efficient. LED lighting can be switched on or off very quickly and achieve its full brightness within microseconds. They will provide little to no heat so there is no cause for worry about damages to skin or fabrics.
LED lighting typically has a long life span with some bulbs featuring up to 50 thousand hours of light. When LED lighting burns out, they gradually dim over time. This allows the user sufficient time to replace the bulbs before they are fully burned out. They can withstand a lot and are shock resistant,making them convenient.
Reflective Material
Other apparel is available that allows for high visibility but none is quite as effective as a reflective safety vest. This article of clothing can be found in several different online and local stores both individually or in bulk. There are several features that can be chosen, all depending on the reason that it is needed and the weather in which it will be worn.
Other Styles
Available in a number of styles including mesh, the orange safety vest provides the wearer with a safe, fluorescent and reflective option during even the most compromised lighting or visibility conditions. They are regulated by the International Safety Equipment Association to protect the lives and safety of many in any situation that might be potentially dangerous. With the addition of LED lighting, they take being safe to a new level.