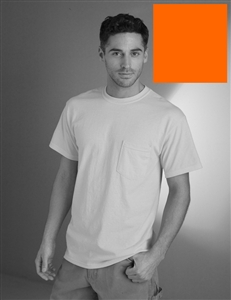 Depending on the type of high risk job, special clothing is required to protect not only the worker, but to notify those around him that precaution should be taken in the immediate area. For example, road construction crews are usually dressed in garments that alert the oncoming traffic. During the warmer months, most generally they will be wearing orange t-shirt.
Bright Colors
The bright neon colors may be seen on the roadways, being worn by men and women who work in a very dangerous environment. The brightly colored shirts, jackets or vest with the reflective tape are worn by them as a safety measure, to alert and be seen by the oncoming traffic.
Required
On high risk jobs where safety hats and protective eye wear is required, by certain state safety standards, the shirts are required as well. In some factory settings, maintenance personnel or others who walk in the area are donned in protective wear.
Avoid Accidents
Many on job incidents, such as forklift operators accidentally hitting other employees has been avoided, due to the type of safety gear they are wearing. Having advance warning to avoid such mishaps is attributed to the required safety clothing. All factories do not require their employees to dress in the neon colors, but for safety measures, it would not be a bad idea.
Different Sizes
The cotton shirts come in several different sizes ranging from small to very large. They are cut on a different pattern than the every day T shirt. Cut for comfort, and ease of movement, many have an odor blocker and moisture resistant quality.
Be Seen
Often in factories forklift accidents are avoided due to the bright, significant apparel. Those wearing safety vests are apt to been seen by the forklift operator, more so than those who are not dressed in the neon colors.
Public Service Workers
Cross walk attendants in school zones wear them. Rain gear for policemen and postal workers is usually sunshine yellow with profound markings. Attraction to a potential hazard is the main purpose of the shirts, jackets and vest safety wear. Most everyone knows the neon colors are a signal of caution.
Not being a one size fits all garment, orange t-shirts come in various sizes from small to a large extra size. The safety vest is a necessary garment for those working in an environment where there are hazardous conditions. However, the shirts are also available for hunters and fisherman. Bicyclist who ride in the dark hours should consider wearing neon colored shirts with reflective tape to alert the cars sharing the road with them. Considering the many different reasons for wearing the upper body clothing, it seems their worth is beyond measure. As always, safety is the first concern.