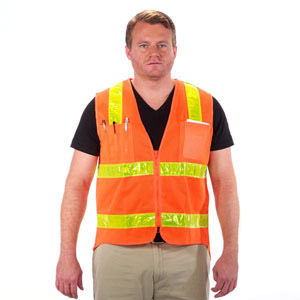 There are various kinds of protective gear that is required to be worn when doing certain kinds of jobs. There are different classes of them. One of them is the class 2 safety vests. These are worn where the occupational duties require enhanced visibility because of foul weather, when the job involves being in the way of approaching traffic. These are worn by those in work sites like road and rail construction sites and other utility jobs.
ANSI
The body concerned with standards of other safety equipment in the US is the American National Standards Institute (ANSI). They rate kits depending on background material, how much reflective material is used and where it is placed and their style.
Class 2
ANSI specifies that class 2 safety vests as sleeveless ones that should have background material of at least 775 square inches while the reflective material should cover at least 201. They are to be worn by those working near roads where vehicles are moving at speeds greater than 25 miles an hour as well as those who are working close to heavy machinery. Others who use them are forestry workers, airport ground crew and baggage handlers and parking and toll gate workers.
Class 3
After this class come the ANSI Class 3. These ones have sleeves and a specified amount of background material as well as reflective material. They are worn by workers who are even more predisposed to risks and need even greater enhancement of visibility. They are used by those around traffic moving at speeds of over 50 miles an hour. They are required to be worn by railway workers, utility workers, survey and flagging crews and emergency responders.
Law Enforcement
Sheriffs, police, EMS and firemen are also required to wear a protective vest when working. They are expected to have on ANSI 207-2006 vests. These vests may be coded with colors and they may be customized according to the different industries. These ones have no less than 450 square inches of background material with 201 square inches of reflective material.
Requirements
Others who are required to have them on when working are parking attendants, shopping cart retrievers and those who drive delivery vehicles. These are workers who are far away from traffic and the traffic moves at less than 25 miles an hour. They also carry out tasks that let them keep an eye on oncoming traffic.
Style
They are sleeveless and they can have some reflective tape or none at all. They are commonly available in lime and orange which have high visibility. However, they can also be worn in others colors as long as they are also clearly visible.
ANSI safety vests
and other kinds are available at safety equipment stores. Check for the ANSI certification mark to be sure you are buying a genuine item. The authorities are mandated to make checks to ensure that workers have on the required protective gear. In case of accidents, insurance companies may refuse to honor claims where workers did not have on the specified vest. Ensuring workers wear them will ensure their safety as well as that of the project owners or employers.