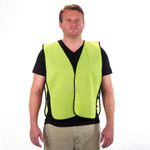 Individuals wear a safety vest so others can see him or her in work zones. Without safety gear, an individual runs the risk of being hit by a vehicle if working on a highway or back road. Vests are reflective in color, which draws attention by others so they are noticeable.
Four Categories
There are four categories, class two and three, public and economy vests. Each category has its own use and each has its own description. They are for every ones protection for certain zones of work.
Class 2
Class two is for high traffic areas, dangerous weather conditions and complex backgrounds. Usually involving law enforcement, emergency workers, and construction and utility personnel. They come in three fluorescent colors, yellow, orange and lime. These are worn over top of uniforms and shirts. There are several styles for an employee to wear. They include adjustable, illuminated, mesh and flame retardant. A company name is imprinted on the vests.
High Visibility
Individuals working in dark locations, high volumes of traffic and bad weather wear a class three, which are high visibility vests. These particular ones fit like shirts and come in half, full or short sleeves. It creates and draws more attention to workers providing him or her more protection while at work. Colors available are in fluorescent and include orange, lime and yellow. Company names can also be placed on this type. The varieties include mesh, sweatshirt, rubber, non mesh and overcoats.
So Who Wears What Color?
Police officers, emergency workers, department of transportation and firefighters usually wear public vets. Colors are distributed by the job the individuals are doing. For instance, a police officer wears blue while emergency workers wear green. The departments of transportation employees wear orange and firefighters wear red. These colors distinguish each worker making it easier for the public to recognize each official person or persons.
Economy Vests
During special events, economy vests are handed out to people directing traffic and providing security for that event. Colors are fluorescent orange, lime and yellow and worn over top of safety t shirts. They are not imprinted with company names instead, it will have staff or security imprinted. Men and women sometimes wear this type when riding a motorcycle at nighttime or during bad weather so motorists see them on the highways.
State Regulations
Each of the different vests is regulated by the state individuals live in. Knowing what each of the colors mean is important when motorists and pedestrians come across him or her wearing those colors. Learning the laws and abiding by the rules is for a workers protection as well as the public. When an employee has these vests on, its usually for good reasons.
Do The Right Thing
A safety vest protects workers that could be in harms way during any circumstance involving traffic or large crowds. Men and women in this position must be watched out for so that no harm or accidents occur to him or her while working. Watch out for them in work zones, events, emergency situations involving wrecks, fires, natural disasters and bad weather. He or she is there to help not become victims themselves. Keep eyes open at all times.