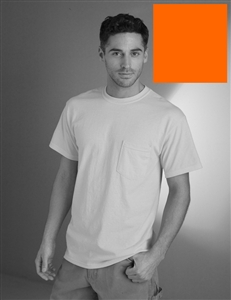 The T-shirt has been a popular choice of warm weather garments since the 1950's. Early T-Shirts were used as undergarments and still are but have become much more popular as an outer garment. Movie stars including Marlon Brando helped make 50/50 t-shirts popular and they have continued to thrive.
Modern T-Shirts
Everywhere we look we see people wearing t-shirts. T-shirts are common for many different reasons. One of the obvious reasons is because they are very comfortable. Usually made out of a soft lightweight material, t-shirts are the ideal garment to be worn close to the body. There are always exceptions, but for the most part t-shirts are relatively inexpensive. Being inexpensive makes them ideal for working or playing where getting dirty is a possibility.
Styles
These days, T-shirts come in a large variety of styles. T-shirts have long sleeves, short sleeves, with or without pockets, crew necks, v-necks, etc… The possibilities are endless when it comes to colors and printed t-shirts. People put company logos on t-shirts to be used as uniforms or just to advertise their company name.  Some people used t-shirts to express themselves with different sayings or quotes, different brand loyalties, favorite type of dog or pet, and anything you can think of.
Safety
Today t-shirts can be used to meet safety standards as well. What was once reserved for stiff uncomfortable safety vests can now be accomplished with a soft comfortable undershirt. Anyone who has ever worked outside in the heat would appreciate avoiding the added heat of a stiff scratchy vest. These t-shirts meet American National Safety Institute (ANSI) standards both in long sleeve and short sleeves. The t-shirts can have reflective strips on them and be produced in highly visible colors. The long sleeves can be used when the weather isn't quite so hot or when long sleeve shirts are appropriate, like when working with hot materials.
Materials
Most t-shirts are made from cotton, polyester, or both. Generally they come as a knit fabric and have the ability to stretch. The combination of cotton and polyester creates a soft material that doesn't shrink excessively. These qualities make t-shirts versatile and easy to fit to different sizes. Thread for the shirts can be made of different materials as well. Some t-shirts even use monofilament as thread which can be uneasy on the skin. The collars are typically reinforced in order to help keep their shape and strengthen the stress points on the garment.
Manufacturing
Due to the simplicity of design, t-shirts are fairly easy to fabricate. Sometimes companies will use a tubular design to decrease the number of seams needed to sew. Machines can mass produce t-shirts and keep the cost relatively low. Companies and governments set quality standards for t-shirts including number of stitches per seam, how the collar lays against the body and many other small things most people don't think of. Labels are placed on the t-shirt with information about the origin of the shirt, washing instructions as well as the material the shirt is made of.
So, although 50/50 t-shirts haven't been around all that long, they have certainly made an impact on the safety industry as well as fashion in general. These t-shirts are found in bright colors like orange and lime green in the safety industry to help identify and allow for high visibility. It is very important that all safety gear like 50/50 t-shirts and ANSI safety vests be cared for properly and well maintained in order to provide maximum protection and guarantee their effective use.