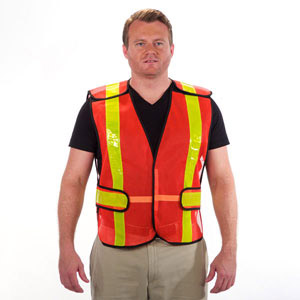 When a person works in a certain industry, they are required by law to wear a construction safety vest so as to remain visible to others. This requirement was enforced so as to improve the working conditions of such workers. The situation was worse in the sites where the light conditions were wanting.
The Statistics
The statistics on the number of accidents that take place in these work areas are worrying. It is the responsibility of the employer to provide their staff with protective clothing. If they fail to do so, legal action can be taken against them when an employee gets injured while on duty.
Orange
The clothing is made using various fluorescent colors for visibility purposes. Riggers mostly go for the orange florescent. The choice of color ensures that a person stands out in whatever environment they are in.
Green And Yellow
If a person is working during the night or in areas that do not have a lot of lighting, they can use the green or yellow models. Someone can store them in their vehicle in case they get caught up in an accident. The types of products that are being introduced into the market are increasing. This move is meant to ensure that all the users have clothing that match their needs.
Reflective
If the clothing is being used during the night, it has to have a reflective tape incorporated into its design. The clothing should still be able to reflect in the presence of artificial lighting. Some of the models have LED technology to increase visibility.
Affordable
Most employers are usually tempted to buy the most affordable products for their staff. When a person is making such a decision, they need to ensure that they do not compromise quality. The investment will not pay off if the clothing starts falling apart after a short time.
Comfort
It is not just about their safety. The employee has to be comfortable with what they are wearing while working. A person should conduct some research and see which models get good reviews. Once a person has all the relevant information, it becomes easier for them to purchase suitable clothing at a reasonable price.
Many companies fail to consider the issue of comfort when they are shopping for the product. Make sure that the product is light and does not hinder movements. If the temperatures are high, it is better for the company to issue their workers with bibs instead. The skin of an employee is able to breath when they where such designs. If they deal with wet conditions, their clothing should be water proof. It will act as insulation to the clothes they wear underneath it.
Printing Available
A company can decide to go for the construction safety vest that comes with prints. Such models either carry an important message or the company's logo. Sometimes a site can be so big that is becomes hard for the employees to distinguish themselves from outsiders. The company can print the position of each worker on their clothing for easy identification. These models can be used as an effective advertising tool for a business. You can also get orange safety t-shirts to go underneath.