Staying warm dry and safe is essential when working in the elements. Working during winter is the most challenging time of year to be outside. The risk of injury increases dramatically if you're not protecting yourself. Here are some quick tips that will keep you safe during the chilly season.
Extremities like fingers and toes can go numb quickly if not protected in winter weather. Opt for durable high visibility work gloves for warmth in addition to safety.  This way you can work longer without getting injured on the job. For your feet, choose warm socks with a water proof boot. PVC steel toe boots are a great option for job sites and labor workers. If you are working in the cold and notice signs of cold injury take a break immediately to warm up your core.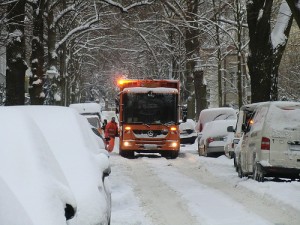 Working in the elements can be challenging and physically draining. Labor intensive work is bearing on your health, and can be dehydrating too. Keep extra water on hand or in your vehicle to stay hydrated during your shift.
Lastly, always be aware of your surroundings. With winter weather prepare for low visibility and icy conditions while traveling and while at work. Use rock salt on walkways to melt away ice and avoid dangerous slips and falls.
How do you stay safe from the winter weather? Share with us now!
Viewbrite Safety Products Facebook
Viewbrite Safety Products Twitter