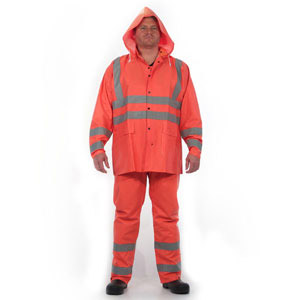 Those who like to work or play in wet weather can still keep their clothes dry with the right rain suits. It doesn't matter if you enjoy jogging while it's pouring or hiking during a storm. Jump on that motorcycle or get a group of people together to attend a football game. Inclement weather doesn't need to put a damper on fun and when you're in the right apparel, you'll be able to stay dry no matter what. It can even protect you from drive-by splashing by a big truck or big waves while you're out on a boat.
Different Styles
Men and women both can enjoy many styles of wet weather apparel. Raincoats are obvious and can be found in just about any color imaginable. However, there are also parkas and jackets, coveralls, boots, hoods and more.
Working Outdoors
Those who work at outdoor occupations won't have any trouble finding the right sort of protection against a rainy day. Use a style that has a thermal lining and you'll stay warm. Sometimes it's nice to feel good while you're at work and it's a bonus to look good, too.
Available In All Sizes
Children don't need to be left out of the fun when there's a boating or camping trip planned for a potentially rainy weekend. Small sizes are available and the kids can be covered with a rain hat on top and boots on the bottom, jacket and pants in between. The right kind of gloves will even keep their hands from too much moisture. Outfit the entire family in the proper gear and there's no reason to put off your vacation plans due to the forecast.
Stay Dry Doing Outdoor Activities
Those who like to fish and hunt can also stay warm, dry and comfortable in the proper apparel. Men, women and children will all be able to cast their lines on a misty morning. Hunters will have no trouble finding the right camouflage colors for the area where they are pursuing their sport. Women's styles also come in camouflage but of course, they're cut to fit the feminine form.
Waterproof Clothing
The ability to create the best waterproofing requires a specified knowledge of the business. There's also an art to producing styles that are not only functional but also fashionable. Manufacturers use their talents as well as their technical knowledge to offer the best product possible.
Everyone Benefits
Everyone, from golfers to construction workers, benefits from the use of waterproof apparel to wear on top of their regular clothing. Men and women and children like to stay dry while at work or play. There are so many reputable brands and styles available that there's never any problem choose what will suit you best. There are plenty of accessories to be had as well, including overshoes and high-visibility rainwear.
When you're looking for rain suits, you'll enjoy browsing through the extraordinary amount of options. The question is about choosing what's right for you. Ask yourself if you need the safety clothing for work, play or a hobby and the answer will come to you. There's no longer a good reason to come in out of the rain.